If there was ever a time to get your video conferencing technology and platforms optimized, this is it. Here's how you can make your video conferencing endpoints do the work for you.
Our patience is running out. We can no longer afford the time and cost of video meetings that won't connect, booked out meeting rooms that are sitting empty, or trying to schedule a meeting for participants that use nine different platforms.
With the Synergy SKY management suite, you can easily configure your video conferencing endpoints and turn them into presence detection sensors to enable the automatic release of meeting rooms that are booked but empty. This is just one of many features that are now accessible:
3. Regain control of meeting room utilization

With Synergy SKY management suite it is easy to join all video meetings regardless of what platform you are using, and you can now enable Cisco Rooms Series (or other IoT sensors) in the new configuration tool to get automatic check-in and no-show room release in your meeting rooms.
The new email notification editor enables you to quickly design dedicated emails to organizers and it-admin when presence is not detected in a booked room.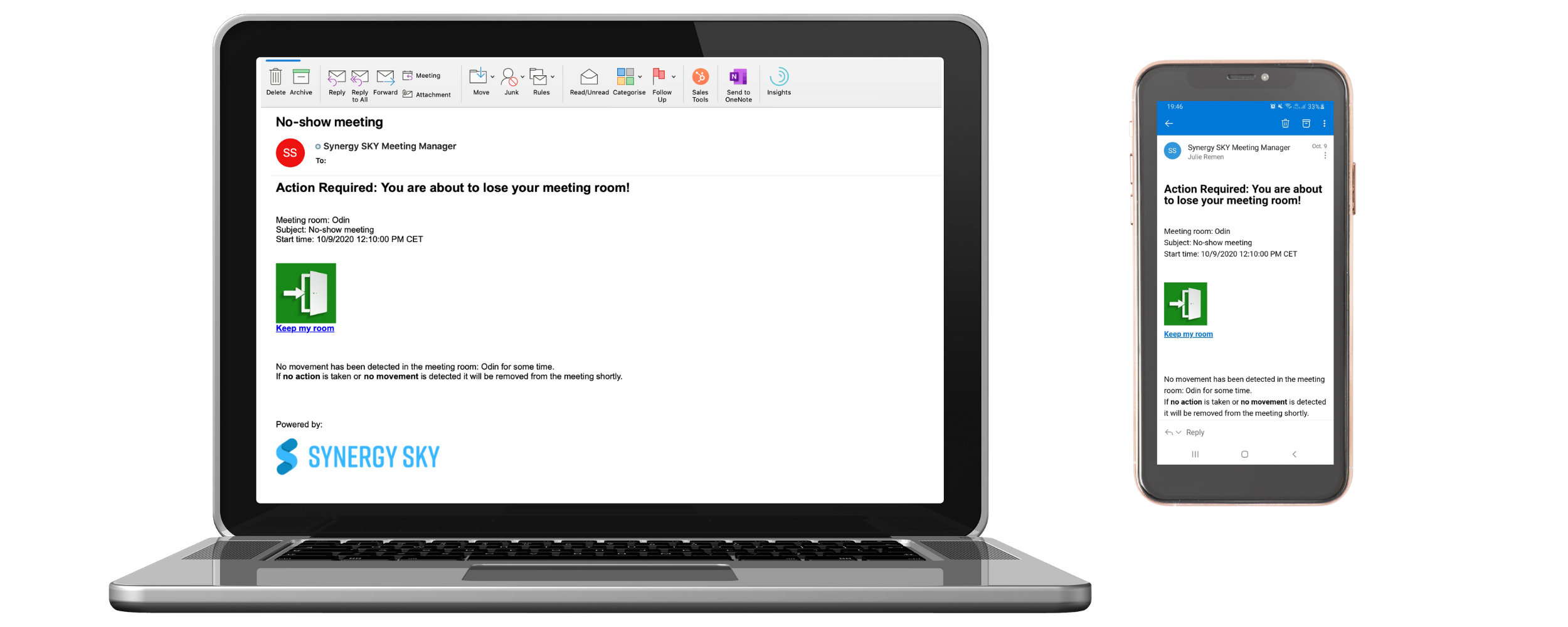 (Some of) what you get:

1. A brand new user experience
The management suite adds a flexible new standalone configuration mechanism that streamlines the installation and configuration process. It introduces a new look and feels while extending the configuration scope to simplify the installation and maintenance of the entire management suite product bundle.

2. EASILY ENABLE NO-SHOW/PEOPLE COUNTER
The management suite makes it easier to enable the de-booking feature by using sensor technology in your meeting rooms. This means you can easily turn on/off the room release and schedule the send-out timing of the no-show email when presence is not detected in the meeting rooms. This will give exact data on the usage pattern and put admin on top of use, trends, and future needs.

3. REGAIN CONTROL OF MEETING ROOM UTILIZATION
Insights and analytics are the best way to get the overview needed to increase efficiency and pinpoint issues and problem areas. By enabling sensor technology with the management suite, you get a deeper insight into your meeting room utilization trends and can calculate RoI and meeting efficiency. You can also free up 30% of your meeting rooms by eliminating ghost meetings, zombie meetings, and releasing no-show meetings. This will not only be a huge benefit to the end-user but will also end up saving the company time and cost spent on meeting space utilization.
4. ONE-CLICK MEETINGS
The "original" JOIN experience. Synergy SKY management suite gives you one-click meetings to more meeting platforms and video conferencing endpoints than any other vendor. It will make the user experience smooth for all scenarios: mixed technologies, on-prem to cloud, hybrid cloud and on-prem, transitions, and communication with externals.
5. EASY SET-UP
You can set up the management suite in minutes or contact us and we will help you get a POC up today. The license model is based on the number of rooms. Easy to plan and change as you grow.


Demo of the new configuration tool and presence detection