What is Collaboration Week
Collaboration Week is a week of information exchange coordinated by the IMCCA where manufacturers, partners, and customers can get together to discuss the current industry issues. There are many presentations and panels involving industry thought leaders and experts from both sides of the experience as well as networking meals and social gatherings to discuss the content. And of course, there were prizes and giveaways!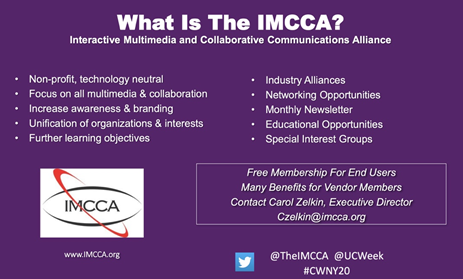 A week of valuable insights and feedback
There were many topics discussed during the event, but a few continued to present themselves as topics of interest in most of the presentations. Those topics consistently discussed were interoperability, premise and cloud, technology adoption, IoT in the meeting room, the 'new' workplace, and new approaches to workflow with the different 'Teams' options available today. The underlying message was things are complex and they are not getting simpler in the world of collaboration.
As a sponsor and supporter of this event, Synergy SKY was fortunate enough to take participate in the event as both an attendee and as a panel contributor. We have some thoughts on the takeaways and how Synergy SKY addresses those customer needs.
Video endpoints are taking the next leap: IoT
Videoconferencing endpoints have evolved over the years. Recognizing videoconferencing endpoints are now found in many meeting rooms throughout the facilities of the enterprise, manufacturers have begun to introduce IoT sensors into these devices. Devices that have provided valuable meeting and calling information over the years are now capable of providing even more details about your meetings using videoconferencing, and in some cases meetings without videoconferencing.
As one of the most valuable assets for any company, real estate, and facilities struggle with the same challenge the video conferencing industry has had for years: how to measure the usage and apply insights into future planning. Poly presented their new endpoints and how they now include IoT sensors to provide next-level analytics for the meeting rooms. They join Cisco and others as companies that have recognized the need for deeper understandings of how facilities are being utilized. Now that videoconferencing is invading even more meeting rooms in the enterprise, it makes sense to equip these devices with the added value of these sensors. Irwin Lazar of Nemertes Research pointed out that the enterprise is measuring success today by "tangible business outcomes, revenue gain, cost savings, and efficiency improvements". What better way to measure those goals than by the analytics provided by these devices. And unlike many of the consumer-grade IoT devices on the market, these endpoint devices are proven security platforms with many of them having passed the stringent DoD testing for federal markets. Synergy SKY, through our Synergy of Things (SoT) integrates with Cisco endpoints to capture the IoT data from these devices and we plan to do the same for both Poly and NEAT when the APIs are available. And if you have an endpoint device without IoT embedded in the device, or just a meeting room with no videoconferencing devices, we have partnered with a company that can provide 3rd party devices to supply those analytics for those rooms to our platform.
Are the big players really working on interop?
Another question was asked about the effort of the players in the market to work towards common interoperability. This begs the question "what does interoperability mean"? Is it just video and audio? Does that also include whiteboarding, file sharing, teams spaces, chat, etc? At the event, the comment was made by David Danto on the first day: "Firms want to be seen as working together, but in reality would rather see each other go up in flames". And "Outbreaks of 'Kumbaya' develop, then inevitably disintegrate". Both of these statements imply companies may be working on interoperability but that does not mean they are committing to making it easy for users to use multiple platforms. While the collaboration aspect of your solution may be in flux and the target of finding new ways to work together seems to be in a perpetual investigation, one thing seems to remain constant: the scheduling tool used by most enterprises, Microsoft Exchange or O365 and Google Calendar is not going anywhere. At Synergy SKY we have chosen to integrate with those scheduling tools without the use of plugins to ensure the interface to the user stays stable, constant, and familiar. Our software takes your ordinary calendar invite and translates that to the information necessary to allow for Cisco and Poly endpoints, even the Poly Trio, to join your meetings with the touch of a single button. And it doesn't matter what meeting platform you want to join, we can help make that happen…easily. Your users can continue to focus on their day jobs and not on being meeting room experts.
The journey from premise to cloud
The customer journey from premise to cloud was another popular topic with all the nuances being discussed during these sessions. If you are the CIO or IT professional being charged with transitioning from a premise solution to a cloud solution, it can be a daunting task and we might be able to help. Today we can enable common video endpoints to easily JOIN premise or cloud meetings by simply forwarding your invite from a colleague or someone outside the enterprise to your video endpoint's mailbox. When the time comes, go to the room, and press the green button on the endpoint to connect. And if for some reason the call drops, you don't need to figure out who has the original dial-in info to get back into the call. The green button will reappear. Just push it and reconnect.
Today with our CONTROL product we can give you that single pane of glass to oversee current and future meetings on your Cisco CMS or Pexip Infinity on-premise meeting. In the future, as APIs become available, we will bring that same single pane of glass experience to your cloud meetings too. This will help you manage that transition from premise to cloud and take your time doing it, making sure you get it right the first time.
Through our ANALYZE product, we can provide the analytics needed to plan for future expansion or deployments. You will have a solid understanding of how the technology is being used, are the facilities and meeting rooms are being used to their intended capacities and the success rates of calls. Integration with IoT can provide valuable information about your meetings beyond whether or not the calls connect. Want to see if rooms are being booked, but not used? We can do that. What about that recurring meeting that always connects that one room, but nobody ever seems to go into that room. Or recurring meetings booked originally for 6 months, but the team accomplished their goals early, but the organizer never canceled the future meetings and now the rooms are not available for others to use. How about getting a proactive notification the room is not being utilized and presented the option to release the room? As you adopt cloud technologies or even other meeting platforms, it will be helpful to have one pane of glass and the data to show which technologies are more successful than others, adopted earlier and quicker, and have the ability to maintain your historical data as you change technologies.
How can Synergy SKY help you?
There is no shortage of innovations coming, and there are many exciting tools coming to market to better enable your enterprise to collaborate in an effective and secure fashion. With all of these choices, it is highly likely one solution will not fit all your needs, so the likelihood of needing multiple solutions is inevitable. As the backend infrastructure or choice of UCaaS may get more complex, our goal is to continue to make the user experience stable, constant, and flexible. As your needs evolve and you add or change solutions for technology or even financial reasons, Synergy SKY will help to reduce any disruption to the daily user – they simply continue to use their current scheduling and call launching experiences, unchanged. Reducing disruption means productivity stays high, the cost of training and retraining is minimized, and adoption rates are increased. And while similar software solutions to Synergy SKY are becoming available to the market, we are unique in our focus on being vendor-neutral and our multivendor support that has a proven record of scaling to very large deployments. While other solutions are focused on locking you into a specific vendor, we are focused on bringing the current and future decision-making power back to you without disrupting your users.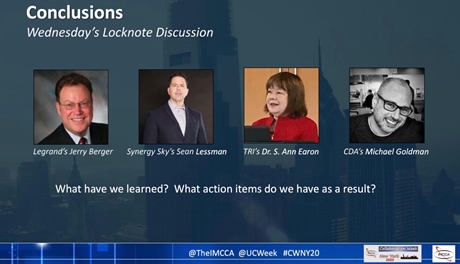 What next? Get in contact with us to get a demo, or share your comment.