For all meetings booked in Outlook or Google calendar where there is a video conferencing resource involved, the Synergy SKY Management Suite can notify the administrator if there is a potential problem with a scheduled meeting.
Monitor all meetings reserved in the calendar
Organizations around the world are embracing the hybrid work model and videoconferencing has become more accepted. This means that while our meeting rooms will be used more than before when we return to the office, it will become increasingly challenging to determine the meeting type: physical or virtual. This is mainly due to two reasons:
You don't know where you will be working from/taking the meeting from a week from now

You don't know where the rest of the participants will be located a week from now
The next challenge is to make sure every meeting happens without technical or user problems.
With the Synergy SKY Management Suite, you get a control dashboard, where the video administrator has an overview of upcoming meetings with visual warnings if there are technical set-up issues that can delay or terminate a meeting.
The software upgrade also allows administrators to harvest and access the conference coordinates of the meetings they are managing. With these meeting details, it's easier for IT managers to troubleshoot the meeting organizers' issues.
With this new feature, IT admins have the tools they need to be proactive and provide a smooth user experience.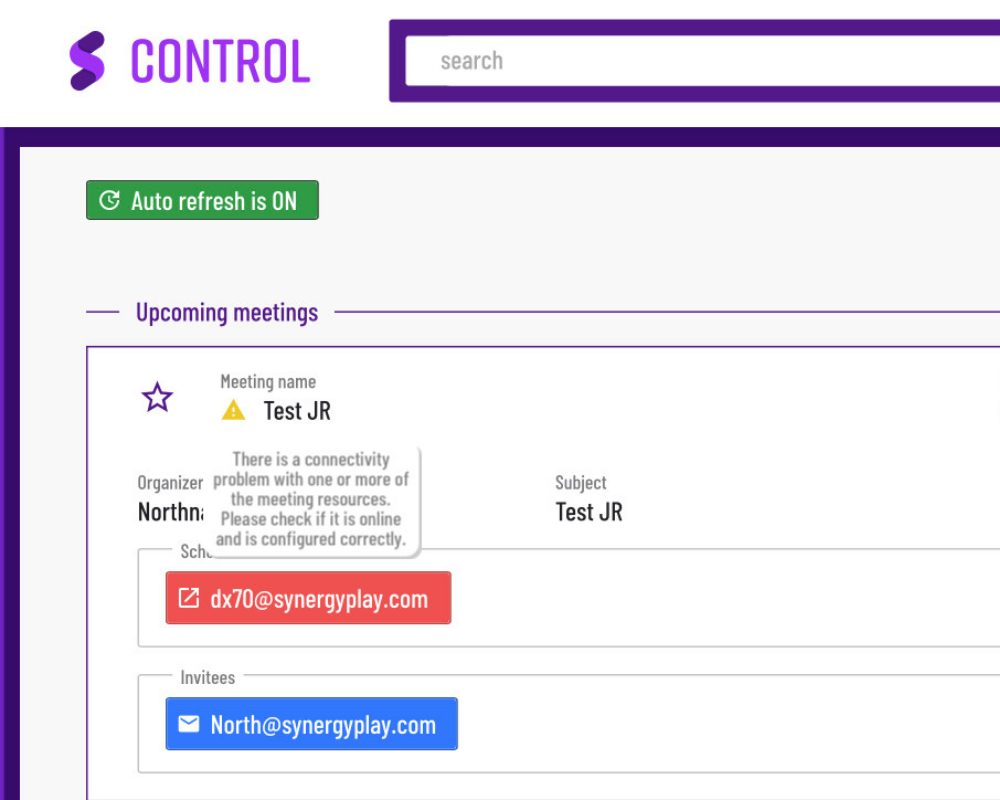 Complete list of new features in 2.1:
Warning for potential Endpoint problems related to upcoming meetings

Provides the administration with visual cues about endpoints not responding to the Synergy SKY Management Suite. Know about the issue before it becomes a problem and stays proactive.

White glove access link to meetings in the Control dashboard

Allow administrators to harvest and access the conference coordinates of the meeting they are managing. A real timesaver when time is of the essence.

Webex Registered Endpoint Improvements

Improvements to how the Synergy SKY Management Suite distributes OBTP information to a Cisco endpoint. I.e get OBTP on Webex registered end-points into any Teams meeting

Analytics dashboard

A simplified dashboard that identifies key performance indicators and how your collaboration platform is trending over time. Click-through to expose the detail or get a birds-eye view of usage patterns in a multi-vendor environment.

Support for external database

Newly expanded database flexibility allows for larger deployments to separate data storage from the application server.

3rd party database access

Use the 3rd party database access to extend reporting capabilities to external analytics packages and report writing platforms (ie. Tableau/MS Power BI).

Automatic backup with manual failover

Revamped dual server active/passive deployment model allowing administrators to activate and failover to a secondary standby server.
CDR data directly from endpoints

CDR can be collected directly from endpoints to mitigate the need for direct communication to on-prem MCUs and cloud-based service

"Light Mode" for Reports

Reports are now available in light mode by default for all systems licensed through Cisco.
As collaboration environments grow more complex, only the Synergy SKY Management Suite can simplify your deployment and provide a single point of access for universal single click meeting connection (OBTP) for Cisco/Poly endpoints, on-prem video bridge control, and meeting room usage analytics. All the functionality of our product line for before, during, and after meetings are now available in one bundle. Upgrade now to unlock the power of the Synergy SKY Management Suite 2.1.