Synergy SKY CONNECT offers an award-winning interoperability gateway that connects Microsoft Teams, Google Meet, Zoom, and Webex meetings to existing video conference devices such as Cisco and Poly.

Synergy SKY is thrilled to announce CONNECT is available to purchase in the Microsoft Azure Marketplace and AppSource. The Azure Marketplace and AppSource are Microsoft's marketplaces that connect companies with a wide range of cloud-based solutions and business applications, respectively, enabling them to discover, evaluate, and acquire the tools they need to enhance their operations.
Jake Zborowski, General Manager, Microsoft Azure Platform at Microsoft Corp., said, "We're pleased to welcome Synergy SKY CONNECT to the Microsoft Azure Marketplace, which gives our partners great exposure to cloud customers around the globe. Azure Marketplace offers world-class quality experiences from global trusted partners with solutions tested to work seamlessly with Azure."
The multi-vendor SIP to Web gateway
Synergy SKY CONNECT is an award-winning patented solution designed to enable users to meet across multi-vendor and multi-technology environments. This ability to seamlessly switch between vendors creates a user-friendly and streamlined meeting experience for end-users, provides better control to administrators, and saves time and costs for organizations.
CONNECT runs on Microsoft Azure, a trusted cloud platform used by many enterprises worldwide, guaranteeing optimal quality and seamless integration with Microsoft Teams meetings.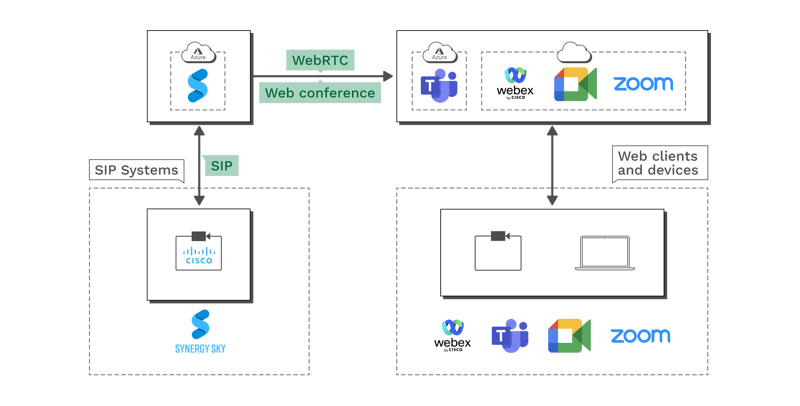 Connecting traditional video conferences to web platforms

CONNECT is the only service needed to keep SIP devices connected and able to participate in these meetings. No other gateway solution provides:
The Microsoft Teams look and feel experience on any SIP video device.

Application sharing (PowerPoint Live and whiteboarding).

In-room booking of Microsoft Teams and Webex meetings.


Benefits for Customers
Trust and Credibility: Having Synergy SKY CONNECT listed on the trusted cloud platform Azure Marketplace shows that it is aligned with Microsoft's commitment to delivering secure and reliable solutions to customers.

Easy to Order: The direct purchase in the Azure Marketplace and AppSource streamlines the procurement process, saving time and effort for customers.

Select installation partner: Customers can choose a trusted installation partner from authorized professionals, ensuring a successful deployment.

Commitment agreements' enrolment: Holders of Microsoft Azure Consumption Commitment (MACC) or Commit to Consume (CtC) agreements have the opportunity to enroll their CONNECT order in these programs.
Simplified Licensing and Billing: Azure Marketplace offers integrated licensing and billing options. This allows customers to conveniently purchase and manage products alongside their existing Azure services, simplifying the procurement process.


How to order / request a quote in Microsoft Marketplace? Lear more here
---


Note for partners:
There is no change in our business model. Our products are only available through our certified partners. This is to ensure that our products get installed and managed by qualified partners.


To learn more about CONNECT, click here.