How often have you found yourself diving into an empty meeting room that is shown as being pre-booked? You say - "let's grab this meeting room quickly, if someone comes along we'll find another". It's all too common in office spaces, and there's a very real reason for this.
Our suite of meeting room software, Synergy of Things, identified that 30% of meetings result in no-shows. These no-shows aren't simply down to employees just skipping the meeting, the top likely reasons for no-show meetings were:
Postponing the meeting
Prior meetings running late
Another venue being used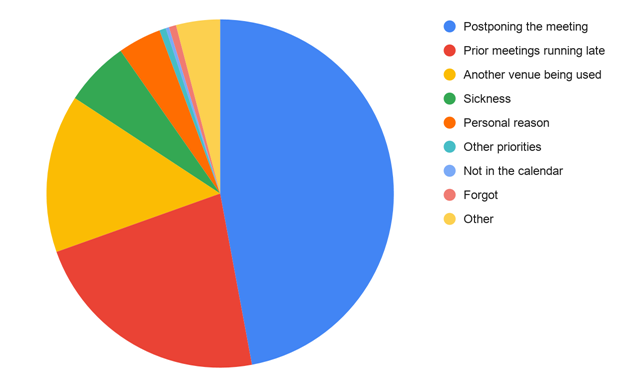 The underlying issue with all of the above? Meeting rooms are booked and not cancelled on the system. These meeting rooms become wasted valuable space.
Taking into consideration that on average, some 90% of an 8-hour day has meeting rooms fully booked, these no-show meetings are potentially costing businesses a huge price every year.
Synergy of Things wasn't created to showcase the fact that your employees aren't using meeting rooms that they've booked out, but instead, our aim is to highlight where costs to the business could be optimised, as well as streamlining, managing and analysing both online and offline meetings. With our auto room release option, unused meeting rooms can be freed up easily for others to take advantage of the available meeting space.
For businesses located in top cities worldwide, New York topped the list for the annual wasted cost due to no-show meetings, followed closely by London and San Francisco.
The below takes into consideration the average meeting room size of 30m2 and one meeting room for 20 employees to calculate the annual wasted cost of meeting no-shows.
| | | | | |
| --- | --- | --- | --- | --- |
| City | USD Cost @ 30m2 /Annum | 20 staff No Shows | 100 staff No Shows | 1000 staff No Shows |
| New York City | $ 55 411,20 | $14 961,02 | $ 74 805,12 | $ 748 051,20 |
| London West | $ 42 857,10 | $11 571,42 | $ 57 857,09 | $ 578 570,85 |
| San Fran | $ 42 390,90 | $11 445,54 | $ 57 227,72 | $ 572 277,15 |
| LA | $ 33 266,70 | $ 8 982,01 | $ 44 910,05 | $ 449 100,45 |
| Sydney | $ 33 266,70 | $ 8 982,01 | $ 44 910,05 | $ 449 100,45 |
| London City | $ 29 037,60 | $ 7 840,15 | $ 39 200,76 | $ 392 007,60 |
| Paris | $ 28 138,50 | $ 7 597,40 | $ 37 986,98 | $ 379 869,75 |
| Zurich | $ 24 741,90 | $ 6 680,31 | $ 33 401,57 | $ 334 015,65 |
| Moscow | $ 23 443,20 | $ 6 329,66 | $ 31 648,32 | $ 316 483,20 |
| Dublin | $ 22 410,90 | $ 6 050,94 | $ 30 254,72 | $ 302 547,15 |
| Geneva | $ 20 979,00 | $ 5 664,33 | $ 28 321,65 | $ 283 216,50 |
| Milan | $ 19 314,00 | $ 5 214,78 | $ 26 073,90 | $ 260 739,00 |
| Melbourne | $ 18 614,70 | $ 5 025,97 | $ 25 129,85 | $ 251 298,45 |
| Frankfurt | $ 17 982,00 | $ 4 855,14 | $ 24 275,70 | $ 242 757,00 |
| Amsterdam | $ 15 817,50 | $ 4 270,73 | $ 21 353,63 | $ 213 536,25 |
| Reading | $ 15 484,50 | $ 4 180,82 | $ 20 904,08 | $ 209 040,75 |
| Munich | $ 15 184,80 | $ 4 099,90 | $ 20 499,48 | $ 204 994,80 |
| Berlin | $ 14 785,20 | $ 3 992,00 | $ 19 960,02 | $ 199 600,20 |
| Manchester | $ 14 085,90 | $ 3 803,19 | $ 19 015,97 | $ 190 159,65 |
| Edinburgh | $ 14 085,90 | $ 3 803,19 | $ 19 015,97 | $ 190 159,65 |
| Bristol | $ 14 085,90 | $ 3 803,19 | $ 19 015,97 | $ 190 159,65 |
| Birmingham | $ 13 686,30 | $ 3 695,30 | $ 18 476,51 | $ 184 765,05 |
| Glasgow | $ 12 887,10 | $ 3 479,52 | $ 17 397,59 | $ 173 975,85 |
| Madrid | $ 12 387,60 | $ 3 344,65 | $ 16 723,26 | $ 167 232,60 |
| Leeds | $ 12 087,90 | $ 3 263,73 | $ 16 318,67 | $ 163 186,65 |
| Brussels | $ 10 656,00 | $ 2 877,12 | $ 14 385,60 | $ 143 856,00 |
| Vienna | $ 10 389,60 | $ 2 805,19 | $ 14 025,96 | $ 140 259,60 |
| Cardiff | $ 10 056,60 | $ 2 715,28 | $ 13 576,41 | $ 135 764,10 |
| Newcastle | $ 9 856,80 | $ 2 661,34 | $ 13 306,68 | $ 133 066,80 |
| Budapest | $ 9 790,20 | $ 2 643,35 | $ 13 216,77 | $ 132 167,70 |
| Warsaw | $ 9 590,40 | $ 2 589,41 | $ 12 947,04 | $ 129 470,40 |
| Barcelona | $ 9 190,80 | $ 2 481,52 | $ 12 407,58 | $ 124 075,80 |
| Prague | $ 8 991,00 | $ 2 427,57 | $ 12 137,85 | $ 121 378,50 |
| Bucharest | $ 7 192,80 | $ 1 942,06 | $ 9 710,28 | $ 97 102,80 |
The math is easy - Start today
Sources
https://mapping.cbre.com/maps/2019-Global-Prime-Office-Occupancy-Costs/ https://www.statista.com/statistics/431672/commercial-property-prime-rents-europe/ https://www.realestate.bnpparibas.com/glance-main-office-markets-europe-q3-2019