Making it easier for Cisco Webex devices to connect to internal and external Microsoft Teams meetings with support for One Button To Push (OBTP) Easy Join Services for WebRTC Guest Join.
The New SIP to Teams Interop, is a better approach for most - but the workflow in this blog might still be relevant for some
The User Friendly Approach
Synergy SKY has developed a solution to allow for the Synergy SKY Management Suite to provide OBTP Easy Join Services for "WebRTC Guest Join" on Cisco devices. If you are familiar with Synergy SKY's current Easy Join "green buttons", that feature will now work with Cisco's "WebRTC Guest Join". This development will make joining internal and external Microsoft Teams meetings less complicated and easier for users.
How is this different from Cloud Video Interop (CVI)?
Cloud Video Interop is a feature available from several vendors that performs the SIP to Microsoft Teams conversion in the cloud. This allows a SIP device to connect to a Microsoft Teams meeting by connecting through a cloud service that supports this conversion. One drawback to this approach is the Microsoft tenant holding the meeting must enable and pay for this feature so other people can call them. If you have CVI but need to call another organization's Team's meeting, they also need to have CVI. This can be complicated for users to understand and plan for meetings.
NEW: As an alternative to CVI, you should consider Synergy SKY CONNECT
Some modern endpoints have embedded web browsers, such as the Cisco Webex Room, Board, and the new Cisco Webex Desktop -series, and those embedded browsers allow the Cisco device to appear as a web browser for meeting services like Microsoft Teams. This feature enables a Cisco device to connect to a meeting hosted on Microsoft Teams, directly as a WebRTC client through a feature called "WebRTC Guest Join". In this case, the Cisco device participates as a WebRTC client and does not require CVI.
Both approaches have their benefits and drawbacks which is why enabling both methods enables the best experience from a Cisco device for as many use cases as possible. Providing support for both methods assures the most consistent and reliable connection experience for customer deployment. And Synergy SKY's Webex Certified solutions now provide a more reliable and consistent meeting experience for Cisco and Microsoft environments.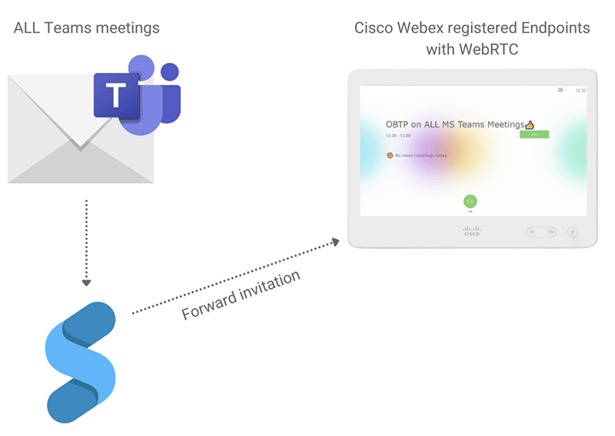 So, how will it work?
From the user's perspective, it will work the same way the Easy Join "green buttons" already work. You can schedule a meeting just as you do today, and Synergy SKY will read the invites, format the necessary information, and push the "green button" on the device. You can also forward an invite you receive from another meeting host to your device and just push the green button. Synergy SKY will determine if the call is SIP or WebRTC and make the right connection for you. All you need to do is push a single button to connect.
But, doesn't Cisco already provide this?
Yes, Cisco currently provides both CVI and WebRTC Easy Join Services when using Cisco Hybrid Calendar Services. Synergy SKY is being leveraged to provide these same services to customer deployments where Cisco Hybrid Calendar Services are not currently supported, for example, multi-vendor deployments.
What does this really mean?
With Synergy SKY, now you can join ANY Microsoft Teams meeting with OBTP Easy Join Services in even more use cases:
Mixed deployments of modern and legacy Cisco devices using CVI

Multi-vendor deployments using "WebRTC Guest Join" for modern Cisco devices and CVI for legacy or multi-vendor devices, all with the same solution

For both meetings originating inside your organization as well as coming from another organization
The Synergy SKY Management Suite focuses on making it easy for users to schedule and join multivendor meetings and has simplified yet another use case for our customers. And the best part is, as a user you don't really need to understand how it works, you just have to know how to push a "green button".
Also read: