I recently created a poll to ask a question on LinkedIn about whether my network works Fridays. This was after a comment an acquaintance made that surprised me: "MOST PEOPLE TAKE FRIDAYS OFF NOW THAT THEY WORK FROM HOME". Once my poll received over 70,000 views and thousands of votes I realized it was a very prevalent topic with mixed opinions.
It's in the Maths
My initial thoughts were simple. Fridays are a very valuable 20% of a working week. Even when your immediate tasks are complete there is always something to do. Admin. Tidying up CRM. Clearing out your inbox. Contacting clients whose contracts you have lost to see how they are getting on. Planning. Those tasks we all put off.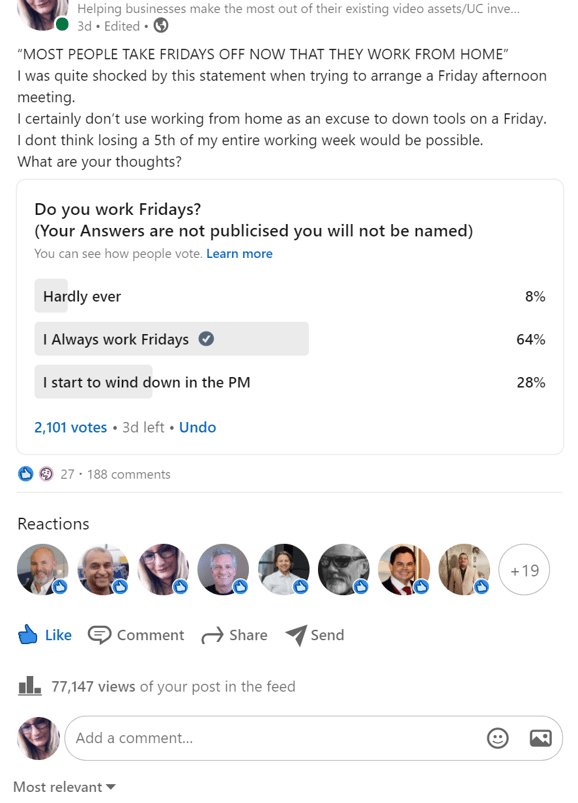 Does taking off Friday increase productivity?
An interesting comment and response was regarding the studies surrounding the optimum number of hours that your brain and body consider its peak. 32 hours I am told is the peak. Perhaps flexibility and working over the weekend or maybe evenings to "get your hours in" is a sensible suggestion. Not being confined by 9-5 which are deemed very traditional working hours.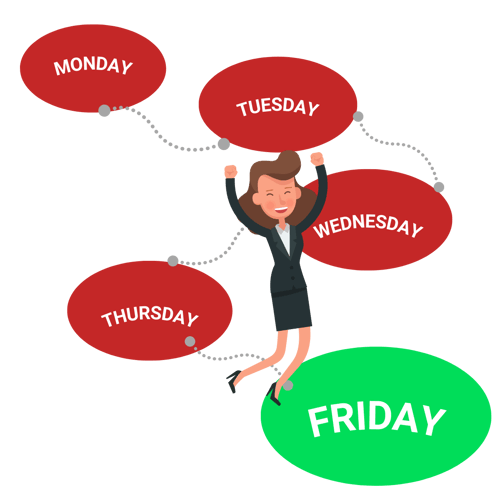 Trusting your team
There were many responses that brought up the topic of "Trust" and how you must entrust your team (many of which are now working from home) to work when they need to, to get the job done. Responses stating how this can be done around the school run, your family, putting in a load of washing, walking the dog – all of the things many of us have done during COVID. I agree trust is needed and flexibility is ok, but can everyone be trusted? It is difficult to measure yourself when you are breaking off throughout the day. This brings me to good leadership.


Good people managers and leaders need to step up
It is time for good leaders to step up and shine. A happy balance of autonomy and guidance. Managing a team from a distance throughout a global pandemic is not the same as it used to be. We have to consider many factors that will be affecting individuals; from homeschooling, home and family distractions, high emotions, anxiety caused by uncertainty throughout this pandemic. Individuals are exactly that – individual. Not everyone is the same.
Thus – it's time for good managers to shine and manage their teams to ensure they are ok, have the resources they need, and measure the outputs from pre-determined expectations – it's a hard balance to achieve this without micromanaging or controlling your teams but it's important.


Do you truly know who in your team is working, and when?
At Synergy SKY we can help remove the guesswork of who in your team is working and when. We can help you to measure video and room usage across multiple video platforms to give a holistic view of video utilization so that when your team is not in the office you can see who they are connected to from the team, for how long and review this data if you need to and productivity is down.
See how it works:
Also read: