Learn how to easily connect your Cisco or Poly video conferencing endpoints into a Microsoft Teams, Skype, or any other VMR meeting with one click, while scheduling natively in Outlook or Google Calendar.
You have probably faced this challenge many times: you get a video meeting invitation that you would like to join from your video meeting room or from your video conferencing endpoint, but how can this be done in a simple way?
We solve it in the on-prem, hybrid, cloud, or anything in between – it doesn't matter!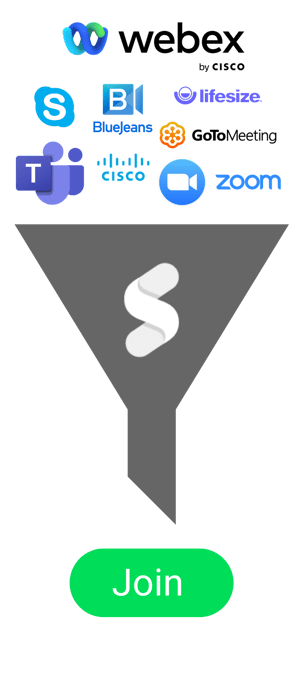 With Synergy SKY CONNECT,
scheduling and starting video meetings is incredibly quick and easy. Stop worrying about the meeting platform type. Simply click accept the meeting invite and push the green button on the video endpoint/touch panel to instantly get connected! Installation is done in minutes by the video administrator.

If the respective meeting room resource has been added to a calendar invitation (both Exchange, O365, and Google are supported), then all is done. You can do this straight away while scheduling the meeting, add it anytime later, or forward a meeting invitation you received, to that room/video system.

The video admin configures appropriate matching rules in Synergy SKY CONNECT, so the calendar invitation dial-in strings, such as SIP addresses and meeting links, are recognized and correctly processed. Room resource enablement makes sure to deliver the green button or an automatic incoming call to the related video endpoint. If such a call requires an interoperability gateway service, this is handled by other infrastructure components, such as Cisco Meeting Server / Webex or Pexip Infinity.
Video Endpoints

Cisco video endpoints - OBTP

WebEx Room Series, C-series, MX-series, SX-series, EX-series, DX-series, IX- series, Spark Rooms, Spark Kits, Spark Boards, CTS systems

Polycom video conference endpoints - OTD

HDX, Group Series, Trio, Studio X

All other video endpoints

Synergy SKY can do dial-out to video endpoint using on-premise MCU API

Scheduling

Outlook

O365 and Exchange on-prem

Google Calendar

Google Workspace, formerly G Suite

Conference Services

MCU Platforms: Cisco CMS and Pexip Infinity

Online meeting platforms: Skype for Business, BlueJeans, Cisco Webex, Google Hangouts Meet, Microsoft Teams, Pexip, Zoom, and many others
More details on "supported technologies" here
Read the technical installation, configuration, and specification here.


Also read:
"Synergy SKY CONNECT – Join any Teams Meeting from any SIP endpoint"

"Synergy SKY is a Cisco Solutions Plus partner"
"Join any Microsoft Teams meetings on Cisco Webex devices with WebRTC"