The rise of multiple video platforms, their respective product versions and innumerable call protocols has made the video conferencing space more complex and harder to navigate. Interoperability is the only long-lasting solution that can solve this for organizations.
One too many business meetings have been compromised due to the sheer availability of multiple video conferencing platforms in the industry, leaving users frustrated, output impacted, and potentially millions of dollars lost. Video users and meeting participants would like to walk into a meeting room and start their meeting on time, without thinking about the platform, interface, invite links, passwords, and other complex video conferencing challenges.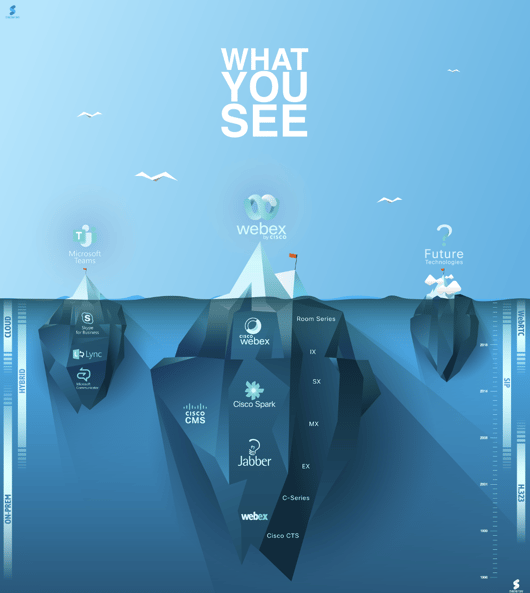 The rise of these multiple video platforms, their respective product versions and innumerable call protocols is unstoppable, which makes the situation more complex and harder to navigate.
This is why interoperability solutions that enable cross-platform communication should be an integral part of video business meetings. These interop solutions will work best if they are intuitive, require no user training, and offer a true seamless meeting experience without disrupting the workflow in an organization.
As the corporate world returns to the office, users want a similar ease-in-use of video technologies from their office conference rooms as they did during their work-from-home days. It is 2022 and nobody wants to spend 10-12 minutes of a 30-minute meeting figuring out how to schedule, join and manage the meeting.
In today's complex market, there really are only two interoperability solutions. One is CVI. CVI is a partial solution where SIP video devices are unable to join all Microsoft Teams meetings. They also cannot take part in advanced collaborative features such as PowerPoint Live sharing. It is a one-way road into the Microsoft Teams silo.

The second option is Synergy SKY CONNECT. CONNECT enables multi-platform collaboration and creates seamless meeting experiences by synergizing your existing setup. It is the only solution that provides a similar Teams Experience on SIP devices and clients including Powerpoint Live. The user will have a similar experience with any client.
The award-winning Synergy SKY CONNECT interop allows all SIP (Session Initiation Protocol) based endpoints to connect to any internal and external Microsoft Teams meeting. It will soon connect to Google Meet and Zoom meetings.


How does it work?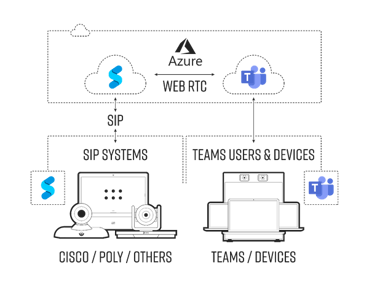 CONNECT is a cloud-based interoperability gateway that enables video endpoints to participate in Microsoft Teams meetings and starts with the installation of its management suite component on the customer network (cloud, on-prem, or hybrid).
Meetings start with users leveraging their calendar to send or receive a Teams invitation where the participants and the meeting room with a SIP endpoint (Cisco, Poly, and others) are selected. The "green button" is processed once the endpoint receives the invitation allowing users to join the meeting easily and securely. With a click of a button, the endpoint then calls the CONNECT module via the SIP protocol which then translates to a WebRTC connection establishing the path to the Teams service. After the interoperability negotiation is completed, the meeting starts.
This interoperability solution supports your collaboration investment across calendars, meeting rooms, and video conferencing platform to make all video meetings effortless. With zero user training and efficient admin tools, CONNECT makes for a sustainable, easy-to-use, and long-lasting solution to all your video conferencing challenges.