The global pandemic has forced people to quickly establish and adapt to remote ways of collaborating and communicating. Many have been creative in finding new apps and systems to keep business running. So, when the pandemic subsides and we prepare for "the new normal", IT and video administrators will be challenged by colleagues who have now settled into their own preferred tools for video conferencing.
Fast forward a few weeks or months when this pandemic fades, and your workforce begins to trickle back into the brick and mortar. Things will get back to normal. But a new normal. You will assess the financial impact to the organization over the span of the pandemic and realize the need to take measures before the next time something like this happens.
You may have seen your main competitor distancing ahead of you by a few months, due to a better remote worker plan already in place. You may have also read this virus is likely to come back next fall before a vaccine is ready, and we could be doing this all over again[1]. You need a strategy. Having a solid telecommuting plan and using this technology can provide productivity gains, financial savings, and remote work perks that attract top talent.
As every department quickly had to find optimal solutions or tools for video collaboration, your organization is now likely facing a mix of meeting technology: Microsoft, Cisco, WebEx, Zoom, hardware video rooms, software clients, on-premises conferencing, and cloud services.
How will you leverage all of these technologies and make the interaction the same regardless of meeting services?

How can you make these meetings easier so people will adopt the technology, without spending time and money on training and implementation? How will you prepare the company and gear up for the next unexpected event? This is where Synergy SKY comes into the picture, ready to assist you.
We are a company filled with long-time video conferencing industry experts who can advise you on strategies that meet your UC goals. Synergy SKY offers a "Synergy of Things" (SoT) platform with three applications that streamline the meeting experience while minimizing user adoption times. We thrive in complex multivendor environments, but we have solutions for the simpler deployments too.
Synergy JOIN – before the meeting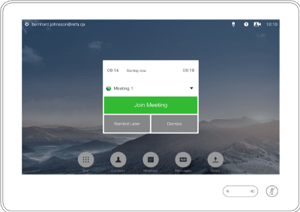 JOIN takes the booking you make in your preferred calendaring system and creates the dial-in links to populate your meeting invite. JOIN sends this dial-in information to a Cisco or Poly meeting room endpoint in the form of a "green button".
When it's time for the meeting, you simply press the button to join. If the meeting is created by someone else who invites you, you can forward the email invite to your video conferencing system's 'mailbox' and JOIN will automatically push the appropriate dial-in information to your endpoint where the 'green button' will appear. This plugin-less approach removes the need for training and retraining of users and roll-out and adoption is quicker.
Synergy CONTROL – during the meeting
CONTROL provides a single pane of glass to monitor and manage current meetings on your Cisco CMS or Pexip Infinity platforms. When CONTROL is used along with the JOIN application, it can search and manage future meetings, even if those meetings reside within your Microsoft Exchange or Google Calendar environments.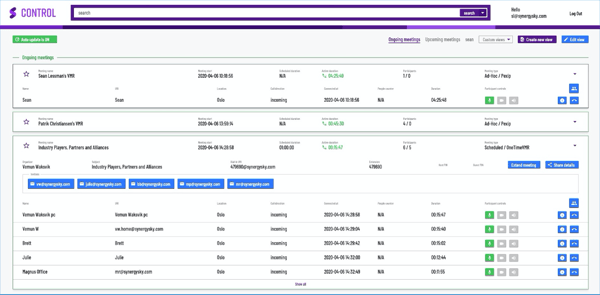 You can add additional participants on the fly, disconnect participants, change the meeting layouts, and see network connectivity, performance, and quality information and see how many people are in each room.
Synergy ANALYZE – after the meeting

The third app on the SoT platform is the ANALYZE application, capturing all the meeting metrics and metadata for use with a historical analysis of your meetings. Today this information is obtained from on-premises meeting platforms like Cisco CMS/VCS or Pexip Infinity. In the near future, this will be integrated with cloud services to provide the same level of meeting metrics we do today with on-premises meeting platforms. Data from the latest video endpoint devices and IoT sensors can provide more granular data on no-show activity, the number of participants, and even how long it takes people to file into the room for the meeting.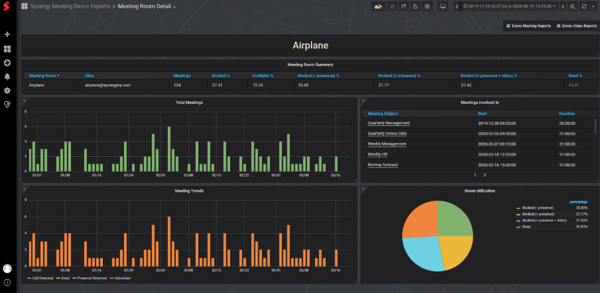 Facilities are typically the most expensive asset on the books of an organization, and we are increasingly seeing the demand to get a better understanding of how those facilities are being used, especially common spaces like meeting rooms. Using modern video and IoT devices, the SoT platform can see when booked physical meeting rooms are not being used, and then send a note to the meeting owner warning them the room will be automatically released due to no show unless the meeting owner intervenes.
We can also provide no-show information to the meeting owner for those meeting rooms and spaces without videoconferencing devices by using 3rd party IoT sensors.
What's next?
It is very important to have a solid continuing operation or remote worker plan implemented, and we want to help you get it in place. We are the only multi-vendor, vendor-neutral, product that makes it easy to schedule and launch meetings, control and manage those meetings, and provide valuable metrics on those meetings after they are concluded.
We do this by using the most common user interface: Microsoft and Google calendars. Now we can also help you with non-videoconferencing meetings, all while helping you gain control over your very valuable facilities with meeting no-show detection and de-booking of no-show resources. Contact us and let us help you prepare for the new normal.