Video meetings from a PC are easy and uncomplicated. Video meetings between typical meeting rooms and external participants are still very complicated. We decided to do something about it.
We are excited to finally announce our new patent-pending product: Synergy SKY CONNECT. It enables every SIP system in the world to join any Microsoft Teams meeting - no caveats.
By now, everyone is familiar with Teams meetings from home offices. Now people all over the world will be able to continue with Teams meetings from meeting rooms with the exact same user experience from traditional video conference rooms they have gotten used to from a PC. This provides a flexibility and user experience that the video conferencing industry has not seen before.
"This will now become a necessity as video meetings are becoming far more important both between different organizations and home offices," says Ståle Reitan, CEO at Synergy SKY.
"The issue has been interoperability – the various vendors in the industry use different protocols demanding additional solutions for compatibility. In addition to this, the user experience and workflow change with these additional solutions. These issues combined create challenges around how and who can meet successfully. We have developed a user-friendly converter for SIP (traditional video conferencing) to Teams meetings that anyone can understand and use," he says.

The new Workspace
Meetings between different organizations demand that the meeting platforms are either the same or compatible. The meeting rooms are more important than ever, and video meetings with external companies over are far more common than before. This increases the chance of being on different or incompatible platforms, which will cause issues for the meeting.
The pandemic has made Teams into a standard for meetings from PCs and home offices, but as we return to the office, most meeting rooms have SIP endpoints that now more than ever need to be able to connect to Teams meetings with external organizations and home offices.
With CONNECT, it will be just as easy to meet across companies and locations as it is between PCs. One-click of a button and you are in the meeting, with the authentic Microsoft Teams layout and experience.
"This means that employees can easily join any Teams meetings from the office meeting rooms, regardless of who sends out the meeting invitation, and without needing any technical understanding around the video meeting set-up," Reitan says.

Technical Overview
CONNECT has a server-side integration with Exchange, O365, and Google so that the users can easily book their video meetings in Outlook or Google Calendar as they would for any other meeting. When the meeting is about to start, all that is needed is the click of a button to connect from the meeting room. CONNECT will also support Government Community Cloud (GCC Moderate, GCC High, or Department of Defense).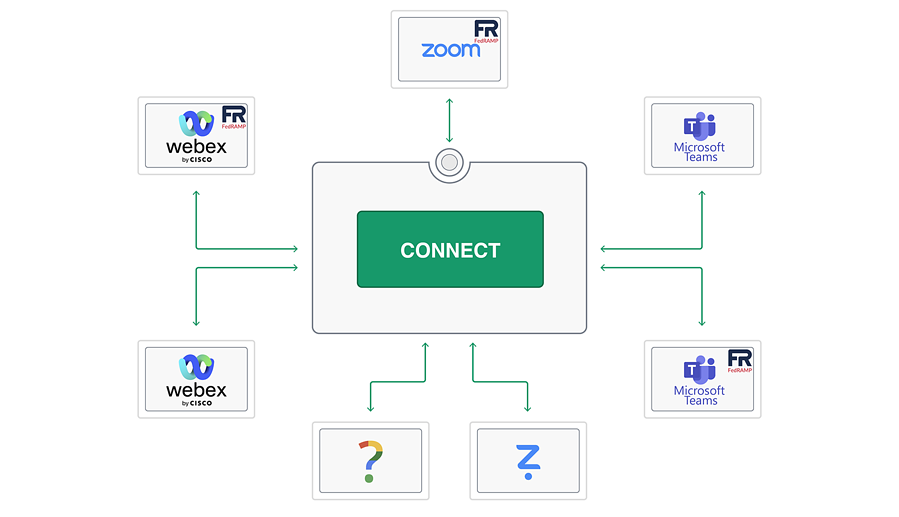 CONNECT is a brand new patent-pending SIP to WebRTC gateway that is developed to create a better solution and user experience for interop between video systems and platforms. It should not be mistaken for or compared to the existing CVI (Cloud Video Interoperability) solutions in the market. In fact, CONNECT can in many scenarios act as a complementary product to your CVI solution depending on technical needs.
Today, there are four CVI providers in the market who make it possible to dial from SIP systems to Teams meetings.
"All the existing CVI solutions create confusion and insecurity among end-users because they are only functional if the person who organizes the meeting has CVI. If the organizer is unsure whether the external participant has CVI or not, the meeting is likely not going to connect and the end-user will not understand why. In addition, if you receive a Teams meeting invitation from someone without CVI you will not be able to make use of your own CVI solution either, and not be able to join the meeting from the SIP system," Reitan explains.
"Employees should not be expected to have deep-seated knowledge around video meeting technology to successfully be able to join meeting from a video room. This is solved with Synergy SKY CONNECT. There are no caveats for the SIP system to join the Teams meeting," he finishes.
As Teams have been adopted as the new collaboration standard all around the world, there is no doubt that this will increase the frequency of video meetings between organizations. This sets new and high requirements for the office meeting rooms making it simple for the end-users to utilize these in the new way of working.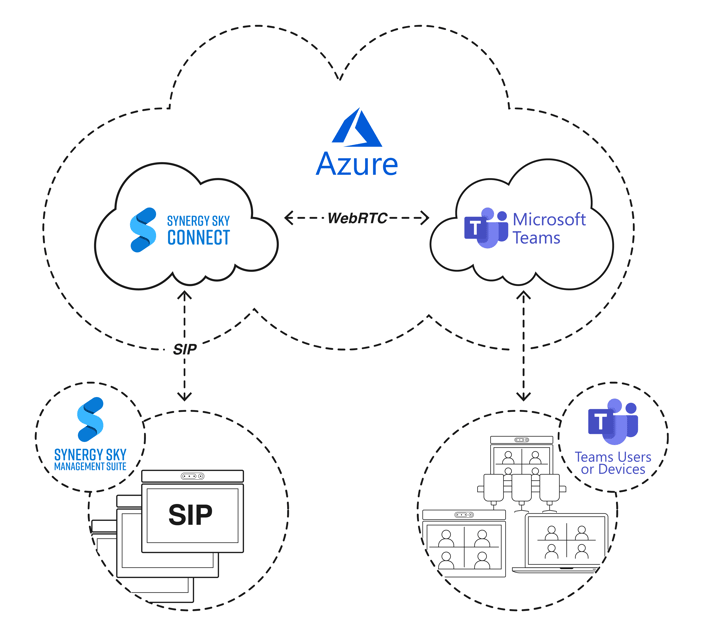 CONNECT makes it easy to join any Teams meeting from meeting rooms with SIP systems, making it painless to collaborate over video across locations and technical understandings.