Synergy SKY CONNECT – the Session Initiation Protocol (SIP) to Web / WebRTC interoperability gateway - is a patented solution that connects these two standards for video, audio and data together.
CONNECT brings standards-based video conferencing endpoints (e.g., Cisco, Poly endpoints) into web browser-compatible meeting platforms (Microsoft Teams, Zoom, Google Meet, et al.). This is accomplished by creating a bridge between two or more protocols that are normally incompatible like SIP/H.323 and WebRTC / HTML. Thereby making the experience on the SIP device similar to the experience from the web browser and creating a transparent user experience no matter what meeting platform.
The SIP and WebRTC/HTML protocols are both standardized. WebRTC is open and is supported by Apple, Google, Microsoft and Mozilla, amongst others. SIP is an open standard ratified by the Internet Engineering Task Force (IETF). Furthermore, Synergy SKY is the only interop provider certified for integrating with Cisco video endpoints.
By following standards, the CONNECT gateway will be a predictive and reliable solution for both, future and backward compatibility. As all new meeting platforms are built to be accessible from web such as Microsoft Teams, Google Meet, Zoom, Webex, GoTo Meetings, BlueJeans, etc. Web is here to stay.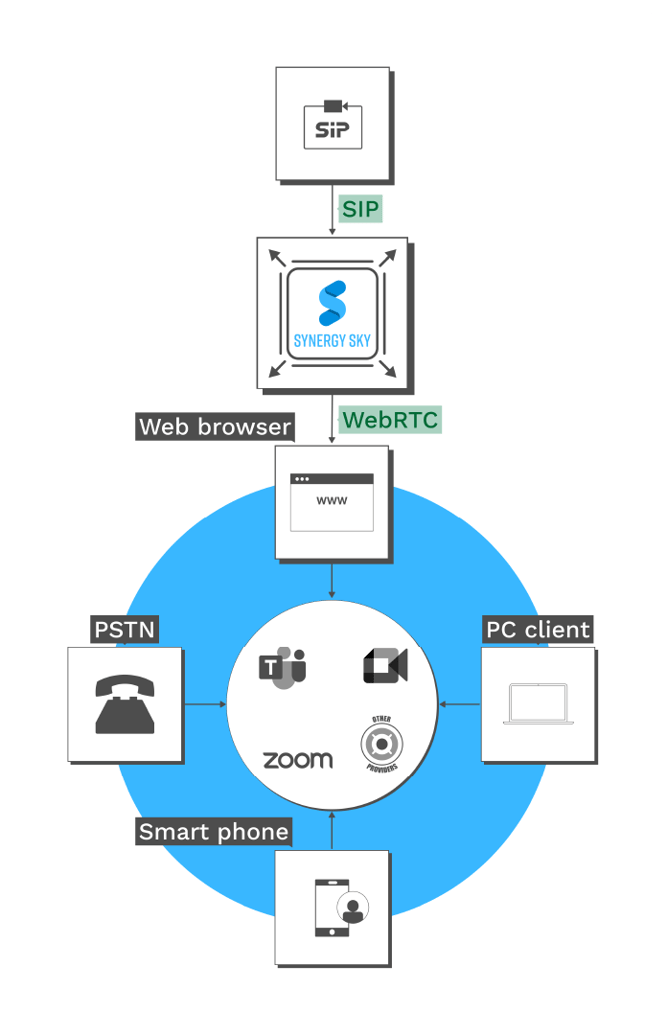 Synergy SKY is connecting SIP devices through the web interface
Synergy SKY CONNECT was released in 2021 with support for Microsoft Teams and has now a proven track record of successful meetings for enterprise, federal and public organizations all over the world. It's unique feature set as an interop solution is listed here.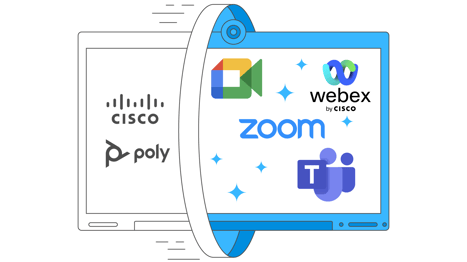 Synergy SKY has announced that CONNECT will soon also support Zoom and Google Meet in the same interoperability gateway as it today supports Teams meetings. CONNECT will then support SIP to WebRTC for both internal and external invitations from the three leading platforms; Teams, Zoom and Google.
As the only truly independent interoperability provider, we remain committed to our industry relationships. Synergy SKY will continue to work closely with the major industry vendors to ensure that our solution meets their standards and requirements.
Synergy SKY is both, a Cisco and Microsoft Partner, and CONNECT is available and can be purchased in Microsoft Azure Marketplace and Cisco Webex Apphub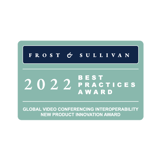 Frost & Sullivan awarded Synergy SKY CONNECT with: Global Video Conferencing Interoperability New Product Innovation Award 2022. This is what Robert Arnold of Frost & Sullivan said in the write-up:
"Synergy SKY CONNECT retains the video meeting workflow that users expect from their native service and does so without the compromises of cloud video interoperability, CVI (...) [It] does not introduce new workflows to users, which drive adoption, utilization, and, ultimately, ROI."