Seeing is believing! One thing is to read information about the award-winning interop solution Synergy SKY CONNECT online. Another entirely different thing is to see it in action.
An eagerly awaiting audience of industry professionals had the opportunity to test Synergy SKY CONNECT in person in sunny Barcelona. The easiness of connection and the quality of audio and video were immediately apparent to all visitors. All it was needed was for visitors to add one of the SIP devices made available on the booth into a meeting on their calendar to instantly connect.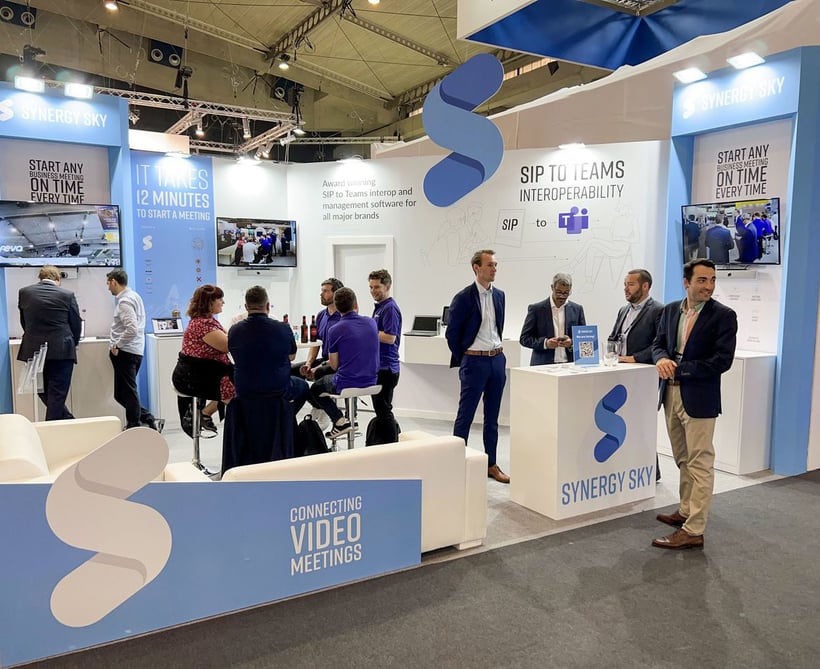 During these demonstrations, Synergy SKY's team got highly-valuable feedback from professionals used to different setups and coming from various sectors. This led to a series of engaging conversations about the future of hybrid working and the improvement of day-to-day video conferencing meetings.

With over 43,000 unique attendees from approximately 150 countries, this year's ISE return to the face-to-face model proved to be the excellent business networking and product showcasing opportunity that all key players had hoped for.
Watch the ISE 2022 highlights




If you weren't able to visit the show this year, watch the videos below for insights from our experts on the key debates that marked our attendance:


Does hybrid working create new technology requirements and what does meeting equity mean in practice? Find out in this panel discussion filmed at ISE 2022. Regional Manager at Synergy SKY, Adele Thornton, Alpesh Unalkat of Aura, Alastair Johnston of Futuresource Consulting, Scott Wharton of Logitech, and Jon Sidwick of Collabtech Group.
The most comprehensive online and printed magazine in Israel in the AV field interviews Adele Thorton of Synergy SKY to know more about what makes Synergy SKY CONNECT.
Sales Director for Scandinavia and France at Synergy SKY, Dan-Ove Hafstad. gives an overview of Synergy SKY CONNECT to rAVe [PUBS], a key news organization providing coverage of the commercial (ProAV) and residential (HomeAV) audiovisual trade industries via e-newsletters, blogs, video, and social media.
Regional Manager Adele Thorton had a conversation with Kinly about interoperability issues and how to integrate solutions seamlessly into the current meeting workflow. Kinly helps organizations become more productive by ensuring they are better connected, more collaborative, and more effective.
ISE returns to Barcelona January 31 – February 3, 2023.
Do you use Microsoft Teams, Cisco or Poly video conferencing systems, and Microsoft Outlook, Exchange/O365, or Google Calendar? Leverage your current tools to enable easy, seamless meetings. Click below to find out how Synergy SKY CONNECT can help.