With the recent acquisition of an IoT platform and a fresh certification from Cisco, Synergy SKY opens its doors to millions of new meeting rooms.
This is a translated version of the article published in the Norwegian newspaper "Finansavisen" (Financial Times) on December 14th, 2020.
Though it's been a big year for video conferencing technology, 2020 hasn't lived up to expectations for the Tandberg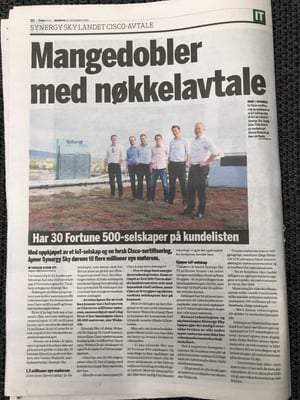 legacy company, Synergy SKY.
The company develops software that links professional video solutions from vendors like Cisco and Microsoft and simplifies the user experience.
After a great year in 2019, with close to doubling the revenue at NOK 60 million and profits of NOK 11 million, everything was lined up for another great year for the video conferencing company.
"The plan was to double our turnover again this year but considering that our customers haven't been in the office we weren't able to achieve this" says Vemun Waksvik, VP of marketing at Synergy SKY.
1,5 million new meeting rooms

However, Christmas came early for the company that landed a global certification deal with Cisco this week. The certification will substantially increase the company's market access and could potentially get the company into several of the largest corporations in the world.
"The agreement will grant access to half of Cisco's 3 million meeting rooms, compared to today where our solution is available in 55,000 meeting rooms," Waksvik says.



According to Waksvik, Synergy SKY will gain access to about 1,5 million meeting rooms that currently are not connected to Cisco's own Webex Cloud. The company will also receive assistance from Cisco's sales department.
"Cisco has more than 25,000 salespeople, while we have 15. That will assist us in accessing far more meeting rooms," he says.
- Why is it beneficial to Cisco to promote your solutions?
"We are like Intel, we make the experience better without being seen. Zoom has had a stunning year, but when people return to their offices they will get back to enterprise-grade solutions like Cisco"
"We have already onboarded more than 30 Fortune 500 companies. As a result of increased activity for mergers and acquisitions among large organizations, there is now a major mix of technologies internally. With our solutions, it's not only possible to have mixed technologies, but it's also very easy to use for the employees," he says.
Acquiring IoT company
Earlier this year, Synergy SKY raised NOK 70 million in a private placement against Håkan Roos and Roos Gruppen ­– one of the founders of the payment solution iZettle which was sold to PayPal for SEK 19 billion.
The company has until now delivered software to the video conferencing industry, but with a recent acquisition of an IoT company they step into all types of meeting rooms.
The Sensor technology and cloud solution Synergy SKY is acquiring, makes it possible to monitor the use of all meeting rooms that don't have video conferencing equipment installed.
By registering presence and movement in the room, the customers get an overview and administrative tools to monitor the utilization of meeting rooms in their entire facility.
"30 percent of all bookings in meeting rooms are so-called no-shows," Waksvik says.
Empty meeting rooms that are unavailable result in frustration among the users, waste of meeting room facilities, and is costly for the organization.
"One of our clients used to have a dedicated person whose task was to check if the meeting rooms were in use or not."
While the number of video conferencing rooms is around 5 million, the number of ordinary meeting rooms is around 100 million globally, according to Synergy SKY.
"With this technology, we are able to twenty times double our market access."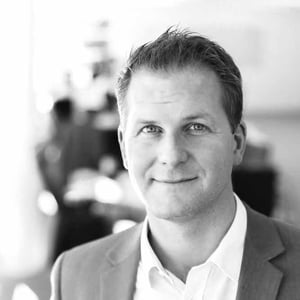 The company is reluctant in predicting what the Cisco certification and the IoT technology acquisition will mean in dollars and cents, but CEO Ståle Reitan says home office and video meetings have become a larger part of our work life and that the utilization of meeting rooms in the offices will increase.
"The interest has never been greater than what we have seen the last couple of months, so we are certain that 2021 will be a record year," Reitan says.