How do you avoid painting yourself into a technology corner? Does the simple fact that everyone now has adopted video conferencing technology actually make business meetings easier?
Streamlined meetings in a mixed vendor era
Video conferencing vendors and platforms have experienced tremendous growth in 2020 for obvious reasons. We asked users of video conferencing how many virtual platforms they meet on for business. Of the participants, 94% said they meet on two or more.
A staggering 40% said they use more than four platforms.
New: SIP to Teams interop by Synergy SKY
According to Wayne Kurtzman, Research Director for Social Collaboration at IDC, the adoption behavior of video conferencing has accelerated five to seven years in 2020, forcing businesses to create a seven-year plan in only two weeks.
Make it easy to use and manage complex videoconferencing meetings
Although this surge in virtual meeting adoption is good news for efficiency, travel cost, our environment, and much more, it does raise an issue: streamlining the virtual meeting experience in a cluster of vendors.
Because, as the adoption of video conferencing continues to grow, most businesses are now finding themselves in mixed vendor environments, either internally or when meeting with external participants. Planning, joining, or forwarding meetings to rooms and systems cause difficulties for users and for the IT department who now suddenly have lost a great deal of control. This results in major costs for the company.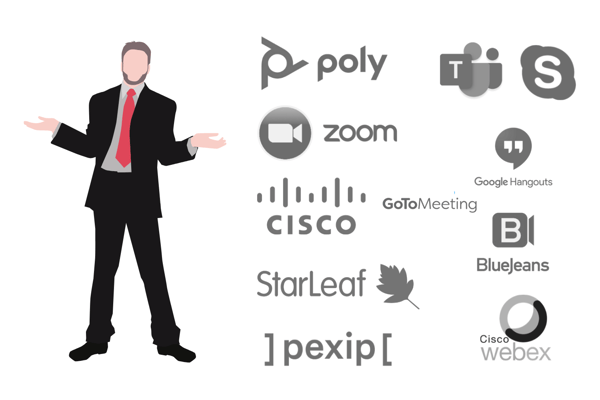 Vendor-user hostage situations
Although some vendors do offer one-click solutions to join meetings, these "solutions" aren't vendor-agnostic – meaning that if you were to change your video conferencing investment in the future, this crucial streamlining feature would be lost.
Most of these features are created by vendors to work only when booking meetings from their platform, leaving the user right where they started – locked to a specific vendor.
The question of security
Then there is the issue of security. Companies invest large amounts of time and money every year in secure video conferencing technology and hardware. However, they still see departments and employees going rogue and booking business meetings on their own preferred meeting platforms – often consumer grade with low security.
How do you protect not only your collaboration investments but also the security of company data?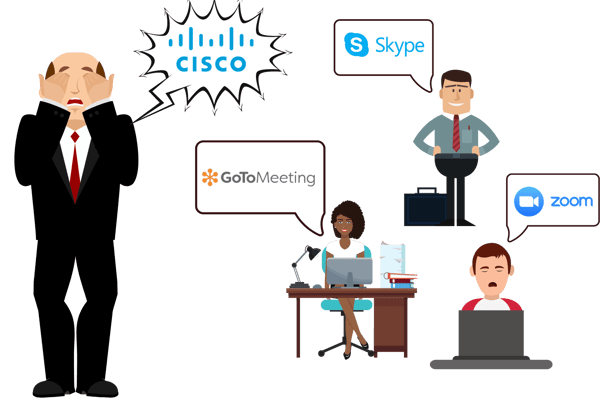 The only neutral software
As our poll demonstrated, we are already meeting on more platforms than the one our company intended for us to use.
This issue will not go away any time soon, either, as we keep getting new kids on the block competing with their more established rivals such as Microsoft Teams and Cisco Webex.
However, while this is a problem most large companies are facing today, not all are aware of the solutions available on the market and the opportunities that exist to be able to move freely from vendor to vendor while remaining streamlined.
Synergy SKY offers software solutions to accompany your video conferencing investment, allowing you to easily join any meeting with the push of a button, from anywhere, regardless of the vendor you are with. In addition, you get full control and overview of all company meetings in a clean dashboard and analytic tools to extract meeting reports and meeting data.
As the only vendor-agnostic collaboration software on the market, this is created with the user and the future in mind. Because who knows what might happen next year or the year after? With the agnostic freedom you know you will always have the option to choose the best and safest solution for your company without compromising ease of use.