Discover the revolutionary Microsoft PowerPoint Live feature within Microsoft Teams, which allows you to share your presentations interactively during video meetings without needing to share your screen. By using this application, you gain access to a wide range of engaging features, including real-time transcription and translation, audience participation tools, and the ability for viewers to navigate through the presentation at their own pace.
In this article, you will delve into the mastery of PowerPoint Live, not only in meetings with other Teams clients but also in video conference meetings with SIP systems like Cisco and Poly.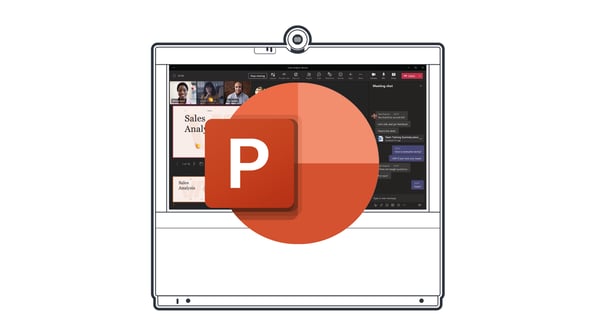 In essence, PowerPoint Live enables presenters to deliver dynamic content in a more professional manner while staying fully engaged with their audience. It allows presenters to secure specific desktop elements that they don't want others to see during the presentation. Moreover, PowerPoint Live offers a range of features that enhance the audience's experience. Attendees can consume the content at their own pace, zoom in and out of slides, choose their preferred language for translation, and navigate backward or forward through the presentation without affecting the viewing experience of others.

Key features
Full Control of Content:
As a presenter, you have a custom view that allows you to see all your notes, chats, and the audience in the same panel view. Your audience only sees the active slide, making it easier for you to track your presentation. Additionally, you can see people's video, raised hands, reactions, chat, and a thumbnail strip shows you which slides are coming next.
Seamless Transitions:
When sharing content with co-presenters, they can easily take control at the right moment and access the presenter view. Control can be easily shared among multiple presenters, eliminating the need to worry about passing control to the next speaker.
Presenter Mode:
Presenter mode is a feature that is coming soon that enables you to modify how your content and video feed appear to the audience. You can position yourself within your presentation, ensuring that viewers don't have to switch their attention between your video and your slides.
Custom Audience Features:
As an audience member, you can interact with the presentation and customize your viewing experience. You can utilize features such as captions, high contrast slides, and slide translations in your native language. This is especially useful as information consumption speeds may vary, and distractions can occur.


How to share a PowerPoint Live presentation in:

Teams client
Select "Share" and then under the "PowerPoint Live" section.

Choose the PowerPoint file you're wanting to present.

If you don't see the file in the list, select "Browse OneDrive" or "Browse my computer".




PowerPoint app for Windows or Mac
Go to the file and select "Present in Teams".

PowerPoint for the web
Select "Present > Present in Teams".
Tips to master engaging presentations in video meetings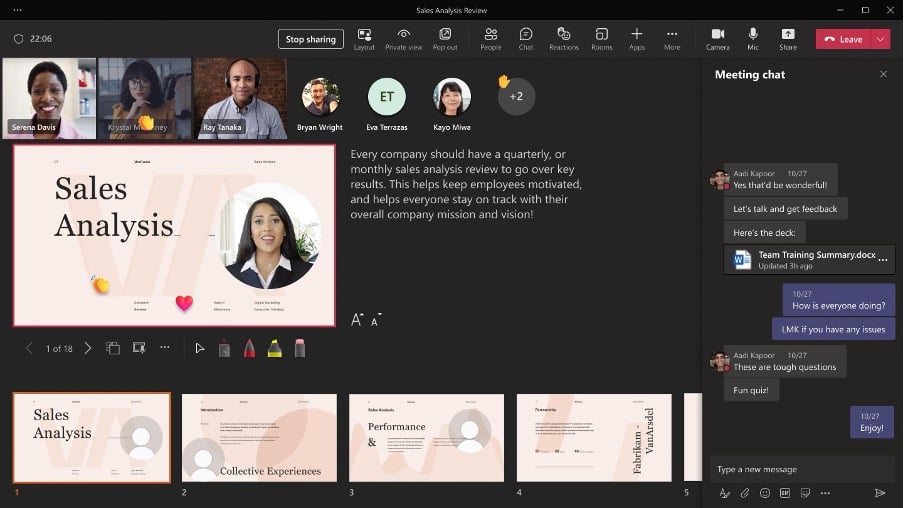 Image credit: Microsoft


Easily navigate through the slides

Use navigation arrows to move forward or backward.

Jump ahead or backward using the thumbnail strip.

Access a grid view of all slides with "Go to slide" for quick selection.
Stay connected to the audience
One of the benefits of using PowerPoint Live to present instead of sharing your screen is that you have quick access to all your meeting tools you need to engage with the audience and to read the room in one view. This is especially true if you're presenting from a single screen.
Enable or disable the chat feature to monitor audience interactions.

View real-time audience reactions and raised hands.

Customize the layout of your presentation and integrate your live camera feed for better non-verbal communication.


Personalized audience view
As an audience member, you're able to personalize your experience without affecting anyone else. Try these options to discover what works best for you:
Utilize navigation arrows to explore different slides at your own pace. Go back to check on information you may have missed or go forward to preview upcoming slides. You can always get back to where your presenter is by selecting "Sync to Presenter". If presenters don't want people to be able to independently navigate through a PowerPoint file they are sharing, use the "Private view" toggle to turn it off.




Instantly access contextual information through hyperlinks.

Interact with videos, adjust volume, and jump to specific timestamps.

Enhance accessibility with screen readers and language translations.

Translate the slides into one of 19 languages.

Select "More options" > "Translate slides"

Choose a language – perfect for multi-lingual teams or organisations.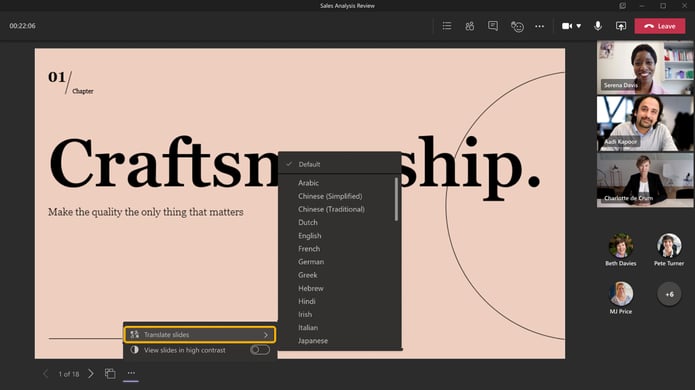 Image credit: Microsoft


Opt for high contrast view for improved visibility, accommodating visual impairments. As someone who recently lost sight in my left eye, this feature resonates with me. Select "More options" > "View slides in high contrast". Your viewing experience will be at a higher fidelity, letting you see crisp text and smooth animations. PowerPoint Live also requires significantly less network bandwidth than typical sharing, making it the best option when network connectivity is a problem as the processing is done centrally.
Independent magnifying and panning
You can zoom in and pan on a presentation slide without impacting what others see. Use your mouse, trackpad, keyboard, touch, or the Magnify Slide option as applicable.
To "zoom" in or out on a slide, do any one of the following:

Hover over the slideshow and pinch or stretch on the trackpad.

Pinch or use the stretch touch gesture (on a touch-enabled device).

Press the "+" or "–" keys.

Hover over slide, hold down "Ctrl" key and scroll with the mouse wheel.

In the "More Actions" menu, click the + or – buttons.

To "pan" around your slide, do any one of the following:


Press the arrow keys.

Click and drag using a mouse.

Click and drag on a trackpad.

Use one finger to touch and drag (on a touch-enabled device).

Reset your screen by pressing 'Esc' once you've finished zooming and panning.



How to use PPT Live in Videoconferencing (and disclaimer)
Synergy SKY is the only interop solution for traditional video conference systems that is supporting all presentation-sharing options. From the Teams client, you can either do screen or application share (PowerPoint or Whiteboarding) into videoconference meetings. From Cisco / Poly devices, you can share presentations via cable or wireless sharing options like Webex, Miracast etc.
Get in touch for a demo. The author, who works for Synergy SKY, has embraced PowerPoint Live as the greatest innovation for presentation sharing ever made.
For further information about PowerPoint Live, I suggest reading the following Microsoft articles:
---




P.S. Industry trivia!
The introduction of "screen share" by Videoconferencing Manufacturers in the 90s was a game-changing innovation. TANDBERG's Natural Presenter Package and Polycom's Visual Concert offered convenient ways to share content from PCs and laptops, which proved to be revolutionary and remains an excellent method for content sharing.