Cross-platform video meetings shouldn't be complicated. Watch Sean Lessman discuss the multi-vendor video complexities and potential solutions for easy collaboration at this year's Cisco Live.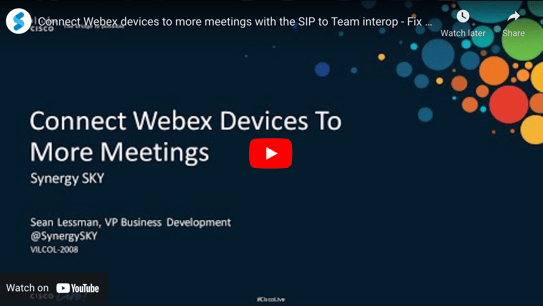 You can find the full recording of the session here and the slides of the presentation here.
Key takeaways:
Synergy SKY CONNECT simplifies the multi-vendor meeting environment and makes it easier for users to join more meetings using the workflows already available to them

CONNECT is not CVI but it does solve many of the CVI issues and more through a new approach

Synergy SKY is the only independent player in the interoperability market, bringing you interoperability without introducing new meeting platforms or endpoints
Find out what Sean Lessman, VP Business Development at Synergy SKY, has to say about Synergy SKY CONNECT's new interop impact on ensuring seamless experiences across meeting platforms.