Connect to all Google, Zoom and Teams meetings from any Cisco / Poly video endpoint.

The Synergy SKY CONNECT solution allows you to have back-to-back meetings across Microsoft Teams, Google Meet, and Zoom from your SIP videoconferencing device. You can use the same workflow for all three platforms, and you can schedule and manage calls in Outlook or Google without any plugins.
Here are some specific benefits of the Synergy SKY CONNECT solution:
Back-to-back meetings: You can easily join back-to-back meetings on different platforms without having to leave your meeting room. This is a huge time-saver, especially for busy professionals.

Same workflow: You can use the same workflow for all three platforms, so you don't have to learn new procedures every time you switch platforms. This makes it easy to collaborate with people who use different platforms.

No plugins: You don't need any plugins to schedule or manage calls in Outlook or Google. This makes it easy to get started with the Synergy SKY CONNECT solution.

Same device: You can use the same device in all meeting rooms, regardless of the platform that is being used. This saves money and makes it easy to manage your videoconferencing devices.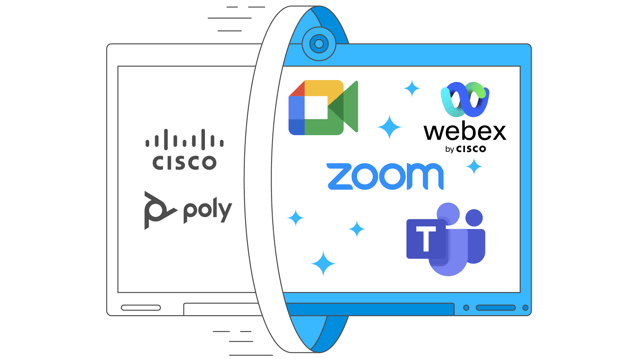 What does it do today?
The CONNECT interoperability gateway is one of the most versatile solutions; the support for the new web platforms (Google and Zoom) is an addition.
Connect ANY Cisco / Poly videoconference room system to ALL internal / external Microsoft Teams meetings

Maintain user experience consistency with Native Microsoft Teams layouts and features while also preserving powerful Cisco device features.

From the Teams client, you can do screen or application sharing (PowerPoint Live and Whiteboarding). From Cisco / Poly devices, you can share presentations via cable or wireless sharing options like Miracast, etc.

Get ad-hoc meeting booking (Webex and Teams) and Microsoft Teams Meeting Controls on Cisco devices: Participants Lists, Raise Hand, Lower Hand, Pin Participants, Gallery View, Fit to Frame, Large Gallery View.



VALUE 💲 All existing users will get the new Google and Zoom interop without adding a new license.

CONNECT includes two key components:
SIP to web gateway and Management Suite
The SIP to web call interoperability is done by the CONNECT service in Azure which handles the real-time media (this is also how Google and Zoom will be added as seen in the diagram below).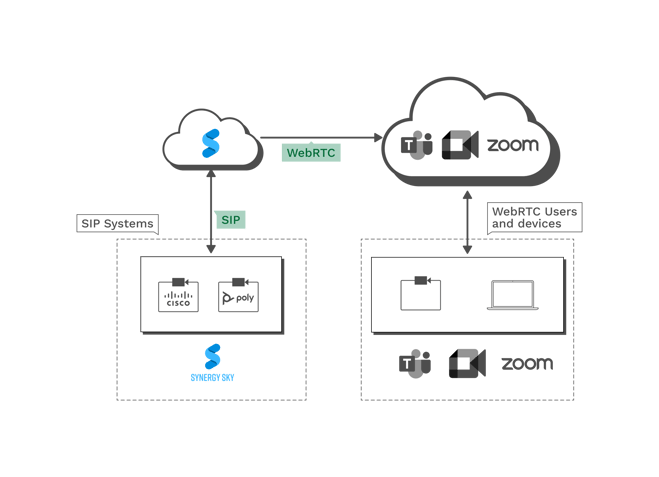 The Management Suite is easily implemented on your own network with a VM image that can be hosted in most virtualized environments. This way, all CDR and booking data remain safe within your premises. This "dual implementation" ensures data privacy while providing the scale and flexibility of a cloud service. Please note that the Synergy SKY CONNECT for Government solution has a different setup, but will also support Google and Zoom meetings.
It's as easy as in-person meetings for users. They can continue using Outlook or Google calendar for all meeting scheduling, forwarding, editing, and cancellation. No training, new tools, or workflows need to be introduced.


HOW DOES IT WORK?