Synergy SKY CONNECT is an award-winning, multi-vendor gateway that connects any Cisco and Poly SIP video endpoint to Microsoft Teams, Google Meet, and Zoom meetings. Here are seven unique benefits:
1. Independence
As the only multi-vendor interop solution in the market that does not have or sell its own video endpoints or meeting platforms, Synergy SKY is neutral provider of meeting connectivity and management.
2. Device Compatibility
Works seamlessly with legacy, current, and new video devices, eliminating the need to replace your existing video room setup. See here for our list of supported video and collaboration technologies.
3. Multi-platform Support
Enables users to join back-to-back meetings across various platforms, including SIP, Microsoft Teams, Web, Zoom, and Google.
4. Native Teams features on Cisco
Get Micro Teams features on Cisco devices, including interactions like Raise Hand, Lower Hand, and Participant List.
5. Join Button
Join meetings on SIP devices with a single green button, eliminating the need for long dial-ins and passcodes. It also simplifies joining VMR invitations from major vendors (BlueJeans, Ringcentral, 8x8, Pexip) to a one-click green button on video systems.
6. Application & Presentation Sharing
Enable screen or application sharing (PowerPoint Live and Whiteboarding) from the Teams client, and share presentations via cable or wireless sharing options like Miracast and Webex from Cisco / Poly devices.
7. In-Room Booking
Book video meetings directly on the Cisco touch panel using Teams or Webex.
For more information, please refer to the Synergy SKY whitepaper.


CONNECT includes two key components:
the SIP to web gateway and Management Suite
The SIP to web call interoperability is handled by the CONNECT service which manages real-time media and allows for the future integrations with other web meeting platforms, as shown in the diagram below.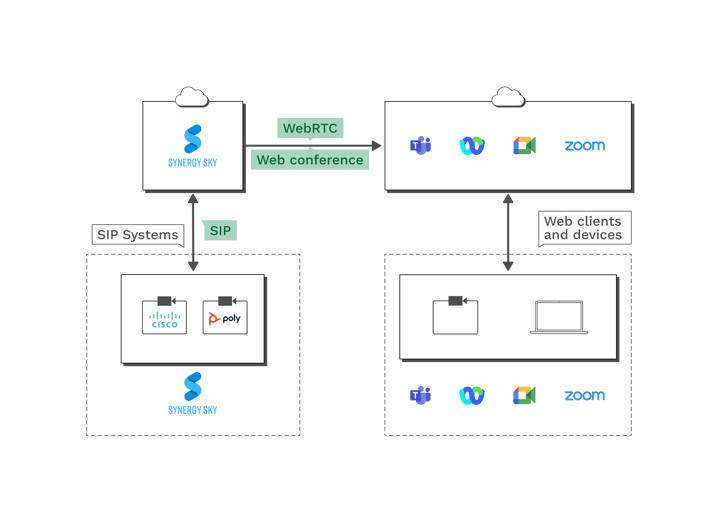 The Management Suite can be easily implemented on your network with a VM image, which can be hosted in most virtualized environments. This "dual implementation" ensures data privacy while providing the scalability and flexibility of a cloud service.
Please note that the Synergy SKY CONNECT for Government solution has a different setup, but will also support Google and Zoom meetings.
Using Synergy SKY CONNECT is as easy as conducting in-person meetings for users. They can continue using Outlook or Google Calendar for all meeting scheduling, forwarding, editing, and cancellation. No training, new tools, or workflows need to be introduced.