"It's an incredible loss of productivity" he continued to mention during his keynote at Cisco Live. Tim was talking about the time wasted to just get a virtual meeting started.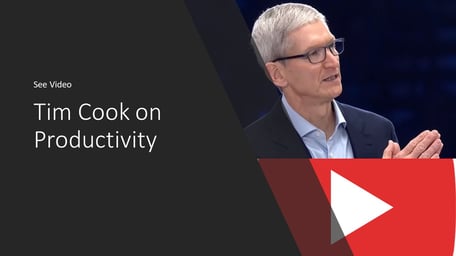 It's a blessing that Apple and Cisco are now working together to make the user experience in collaboration more Apple-like.





Click on the image to watch the video of Tim on stage
In unified collaboration, the unification isn't really that unified. Each vendor has its own 'standard' and negotiators are needed as 'middlemen' to create the connection between the vendors. This type of unification happens behind the scenes, where the user does not see the process or workflow
What the user sees as an invitation in their inbox is an email, which contains multiple options on how to join a virtual meeting. This email comes in the form of a mix of numbers, symbols, and letters in different captions and abbreviations. This scares many users off from using video meetings. If it doesn't work the first time, it will be a challenge to get users back to wanting to use video meetings again.
So, let's hope Tim Cook can give us an Apple-like experience in unified communications. There has been some time since this session and some improvements have been made, but we are not there yet.
Meanwhile, Synergy JOIN can provide you with one – 1 – green button to join your Teams / Skype4B / Webex / Zoom video meetings from Cisco and Polycom endpoints. Schedule natively in Outlook or Google Calendar with no plug-ins.
It has never been easier to schedule and join Teams, Skype4B, Webex, Zoom, or any other combination of video meetings, ever!
Get this Free e-book for Synergy JOIN to learn more: