Do

something

memorable

or

spectacular

enough

to

influence

the

course

of your life in good a way!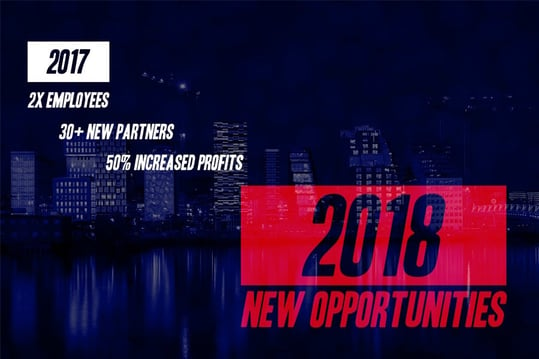 In 2017 we introduced two new products: Synergy JOIN and Synergy ANALYZE. The response has been overwhelming. We have added 30+ resellers, doubled the number of employees, and doubled the revenue.

And the growth is coming from the new products. But the best is yet to come, our opportunity is within every video / Skype4b account in the world.
The product development in the last year was also stunning. SMS was released a year ago with support for Pexip, Cisco Meeting Server, Cisco video rooms, and Outlook with its unique ease-of-use for how to schedule and join Skype4B meetings. Through the year we have added StarLeaf, Polycom, Videonor, and Google Calendar support. SMS also supports forwarding of WebEx, Spark, BlueJeans, Videonor, Videxio, StarLeaf, Skype4B, and VMR invitations to video rooms and lets you start the meeting with one click.
Now, what about your plan for 2018? Are you interested to take part in our endeavors to make video meetings easier for everyone and give better control to the owner?
To continue our growth, we need people. Not just anyone, we want to welcome those who feel that they have the potential to do more, to have more fun, to want to learn if their wings can make them fly! We will do our utmost to get you there. Open positions now are:
Team lead R&D
CFO
Developers
Sales US, UK, Sweden/Finland, Germany, France, and Australia
Post-sales support
Marketing
Do you want to work in a place where you can make a difference? Do you want to be a pioneer and create history?
Do not hesitate to contact us today. CV and cover letter to contact@synergysky.com