Video-Valley is in Norway, but the market is in the US

The Norwegian software company Synergy SKY resolves incompatibility between video rooms and clients "with one click". CEO and founder Ståle Reitan has now settled in New York.
A group of TANDBERG/Cisco veterans is focusing on making it even easier to meet on video. The launch of a new solution last year is now picking up speed internationally. The number of employees doubled in only one year.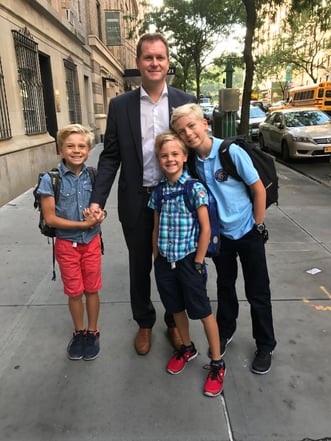 Unique Solution for a Costly Time Thief
Skype for Business (Skype4B) is the leading solution on PCs at work, whilst Cisco – who bought TANDBERG in 2009 for 3.3 billion dollars - rules in the video meeting rooms. Meeting planning is usually done in Outlook or Google Mail.
To start a meeting between the platforms of these technology giants has so far demanded a lot of the users. Oftentimes, it is simply not possible, or the user must enter a long and complicated mix of numbers and letters.
And who hasn't experienced a video meeting not starting on time because someone doesn't know where or how to call in? In many cases, this is a costly time thief.
This well-known challenge is what Synergy SKY has a unique solution for.


Well-received from Australia to Utah
The growth in the market of video conferencing has diminished because the IT giants are clinging to their various "standards". This has been the breeding ground for Tandberg-successors like Acano, Pexip, Videonor, and Videxio.
Now more Tandberg/Cisco-veterans are focusing on making it easier to meet on video.
Synergy SKY launched a solution last year which has been well received, from Australia and all the way to Utah (see separate reference from Skullcandy).
This supports Norway's position as "The Video-Valley". The videoconferencing sector has approximately 1000 employees here in Norway.
Founder and CEO of Synergy Sky, Ståle Reitan, recently moved to New York to be part of this rapid development.
"We at Synergy SKY launched a solution that makes it possible to join Skype4B video meetings from video rooms of other suppliers through a simple click. The user doesn't need to change their work pattern or spend time on training. One simply invites to Skype4B as usual and let the receiver decide how she would like to participate in the meeting, with a click from wherever they are calling in from. No matter whether it's a video meeting room or a PC", Reitan explains and adds:
"Most companies have a patchwork of technologies. We connect them."
Invited by the Largest
After the launch, Synergy SKY was invited to big, international events like Cisco Live and Microsoft Ignite in the US to demonstrate their solutions. Solutions that offer the customers an easier daily life when they operate with a mix of different technological solutions.
Since the product was launched, Synergy SKY has doubled the number of its employees. Now the US is next up – the world's biggest market for videoconferencing. CEO Ståle Reitan is now working on building sales and support departments in the US.
He can confirm that the last six months have been both hectic and fun.
"We've established partners and customers in more than 20 countries in 12 months, doubled the number of employees, and I spent my entire road trip to Italy last summer to talk my wife and kids of 8, 9, and 11 into moving to New York", Reitan says.