Illustration for FG500


We have added 18 Fortune Global 500 companies in 2 years and hundreds of others to our software solutions for easier video meetings. Find out why...

Every company has obstacles and hurdles when it comes to communication. One of them could be: "Why is it so complicated to schedule and start a video meeting?". In some cases, that is practically impossible.
Within large corporations, there are often many different technology platforms in use due to mergers, acquisitions or failed collaboration migrations. This results in a myriad of disparate technologies that do not work seamlessly together. One example we have is that of a giant IT Fortune 100 company that has six separate collaboration conferencing platforms. This made it challenging for the IT department to manage the video infrastructure, and nearly impossible for the users to schedule video meetings.

They, along with every other company, are also facing another common challenge, and that is the growing need for communicating with external customers and partners on a growing number of dissimilar platforms.


Why Bring in Synergy SKY?
Synergy SKY was founded on the idea to create synergies between vendors. Collectively, our team has over 300 years of experience in the UC industry and we know that the number of collaboration solutions is growing. We are not biased towards any specific solution or technology.
One of our solutions, Synergy JOIN, allows users to schedule and start video meetings with 'one-click' from anywhere, regardless of vendors and platforms. JOIN integrates with your current scheduling platform (Exchange/O365 or Google Calendar/G-suite) and your video infrastructure, so there is no need to rip and replace or invest in new hardware.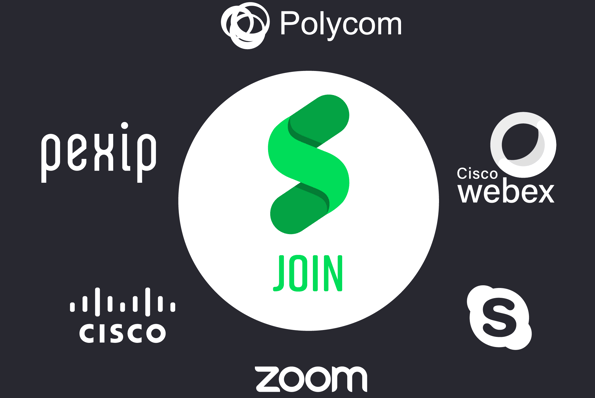 Our customers range from small, with as few as five video rooms, to Fortune 100 corporations with thousands of video rooms. No matter which size, they renew their investment with us, year after year. If you need references, check out our case studies here


A Strategy for Successful Video Meetings from A to Z
BEFORE the meeting: Schedule and start.

Synergy JOIN - an application that simplifies the user experience


DURING the meeting: Monitor and control.

Synergy CONTROL - an administrator's dashboard to all meetings


AFTER the meeting: Analytics and reports.

Synergy ANALYZE - a powerful data collector for mixed meeting environments
All three applications run independently, but in parallel they add value to each other
Want to know more? Check out our webpages www.synergysky.com or book a demo delivered over video below.


or contact us at contact@synergysky.com