Join us in welcoming Anders Bohlinder as our new Regional Sales Manager for Sweden and Finland


Before joining Synergy SKY as Regional Sales Manager for Sweden and Finland, Anders have held sales postions since his first job.
Lastly as Sales Executive in Fujisu where he successfully launched a new service and offering for a global audience which originated from Unified Collaboration and specified in the effects of an activity-based work place and incorporated everything from meeting room-panels, apps and video.
What most people don't know about Anders😲

Click to see Anders "the Athlete" in action
Anders have for many years been competing in trampoline. Last year, he got the opportunity to sign off on one of the things on his personal bucket list, and helped to start up a trampoline park just outside of Stockholm. Anders brought his knowledge as a former trampoline competitor for running day to day activity and safety operations, and with years and years of being a trampoline coach setting up clinics and classes. The JumpYard Trampoline Park venue in Barkarby passed the 150 000 visitor mark just before summer. Currently he is coaching part of the Swedish Senior National Trampoline team in his home trampoline club UVGK in Upplands Väsby, just outside of Stockholm where he lives with his wife Sara and his high-level trampoline competing daughter Linn.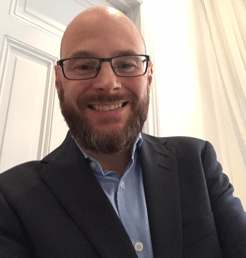 Besides the trampoline that's been going on for about 30 somewhat years now, sales has been his call in business life.
"The thing that drives me is to meet customers and together make great things happen."
- Anders Bohlinder
Anders is looking forward to meet customers and partners in the near future!
PS: Hans Kalderin will still be in Synergy SKY as global sales lead