Synergy SKY is growing further and establishing a strong presence in France with Regional Sales Manager Jerome Boissy and Senior Sales Engineer Thomas Geindreau joining the team.
Regional Sales Manager Jerome Boissy sees user experience as the most important key to success and says this is what businesses need to focus on to be prepared for the new way of working.
"UX is the unique key to success. That is our core value proposal at Synergy SKY, we provide a really smart UX, and what is really cool is that it's totally invisible to the user. With no training or new programs to learn or get training in, the user is happy, the company saves money and the IT specialists save time and hassle.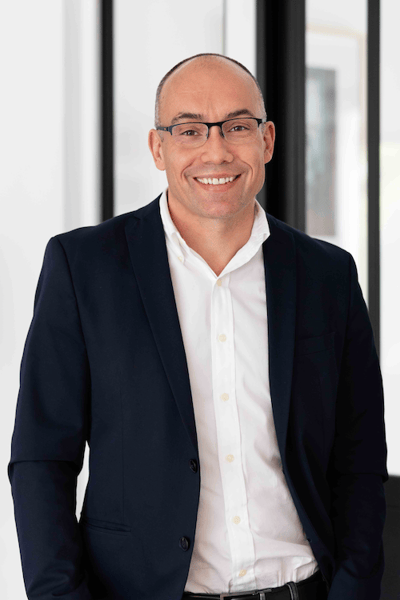 Switching jobs amid a global pandemic can be daunting, but Jerome Boissy wanted to work with the cornerstone of the adaption of the different collaboration technologies and platforms.
"I want to provide the French market with simplified user adaption to make all meetings run smoothly," he says.
He has been in the industry for 25 years and is no doubt passionate about innovation in the technology field.
"It's accelerating every day with new players and new solutions, it's difficult to get bored in this industry", he says.
Boissy began his career with UCL London developing real-time video conferences as a computer science graduate in 1995.
"Since then, I've been doing everything from pre-sales engineer to sales director. I also co-founded an IT service company in 2010," Boissy says.
He moved to the AV market as Regional Manager in 2016 where he discovered many audio and video solutions that impacted the way we work and collaborate on a day-to-day basis.
"I understood how critical it is for corporations to have seamless and simple collaborative solutions if they expect to be adopted by everyone."
"As an AV system integrator, and now as Sales Manager for Synergy SKY in France, it's all about user adoption, simplification, and productivity that we aim to provide."
"The French market is very hardware and vendor-centric, and with Synergy SKY being vendor agnostic and platform-independent, we are able to solve the collaboration complexity for the French market," Boissy says.
We wish Jerome and Thomas luck and are excited to have them join the team to assist the French market.