Charlotte Vermedal on her first impression of Synergy SKY
Until just recently, I lived in New York City to finish my Bachelor's degree in International Marketing (exchange program through BI Norwegian Business School). Preparing for my departure, I started searching for jobs in Oslo.
While doing this, a video conferencing company named Synergy SKY looking for a digital marketing assistant stood out from the rest. The opportunity to work in a small but fast-growing company while also getting international experience was what made this position seem particularly entrancing.
The interview process was different from what I am used to. Rather than being asked those standard questions (e.g. "Tell me your 3 worst traits"), it was more about getting to know me and see if I my personality fit the company. I had interviews over Skype, phone and also met with CEO Ståle Reitan who is located in NYC. I think this process is much more comfortable for both sides and will give the interviewer a more genuine understanding of the potential employee.


After four rounds of interviews in different formats, I was thrilled to learn that I was «the chosen one».
No days a like
So far, no days have been alike. I get different tasks every day and also get to transfer my theoretical knowledge into practice. The work environment is informal while professional, and my co-workers are all fun to be around. We also have a modern office in Barcode with an impeccable view over the Oslo fjord and what was rated "Norway's best canteen" in 2017!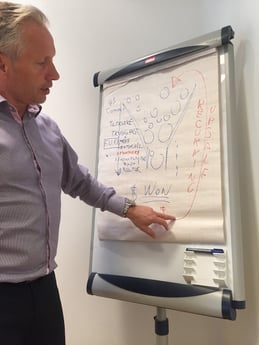 Marketing strategy development session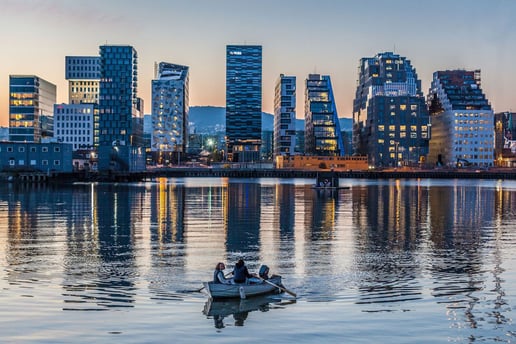 Our office is the one in the middle - Dronning Eufemias Gate 16
Week 2: Las Vegas and Orlando
Already the second week in it was off to Las Vegas followed by Orlando to attend trade shows, respectively InfoComm and CiscoLive. In addition to learning a lot about the products and how they are promoted, I also got to know my colleagues well. Long days in the exhibition halls were usually followed by social events in the evening – ranging from pool parties to Hakkasan Nightclub with clients and partners. «Work hard, play hard» . All in all a valuable experience; both in terms of team-building, networking, and learning.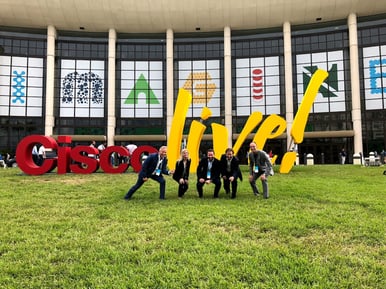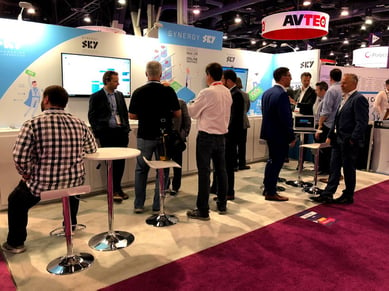 What is Synergy SKY?

Synergy SKY develops video conferencing software. Synergy JOIN, our focus product, is a software that makes video meetings hassle-free to schedule and easy to join - with one button to click. This eliminates time-consuming and costly delays that so many experiences on a daily basis. In other words; it can eliminate a lot of frustration!

Synergy SKY has a global network of partners and customers and has offices in both Oslo, New York City, and Stockholm. A big part of the employees is remote workers located in several different countries, which makes the workforce diverse and flexible.
Why choose Synergy SKY
Synergy SKY is growing fast and quadrupled the revenues in Q2, compared to last year.
For me, it is very exciting to be a part of such a journey.
In Synergy SKY you will work in a small-sized (not for long though) company where what you do really can have an impact. With this also comes a lot of responsibility, which can seem a bit scary at first but also is the best way to learn!
I highly recommend applying for the vacant positions and becoming a part of our talented team in the dynamic industry of video conferencing.