It can be challenging to join a virtual meeting room (VMR) or a third-party UC Platform like Microsoft Teams, Zoom and Google Meet when your device is using your home network (or other external network). This challenge has been solved and it is now possible for users of Cisco Webex video conferencing endpoints to join a VMR or any third party UC platform with one-click using Synergy JOIN - We call it JOIN from Home.
"Synergy JOIN is the only vendor agnostic

one-click-solution on the market"
See demo video
What are the challenges joining from home?
A Cisco endpoint located in an employee's home office cannot be provisioned with a one touch dial experience if it is outside the Company's network. Managing home users private routers, using VPN's or having static IP addresses at these locations is generally not an option for most enterprise businesses


Find the URI address to dial. Invitations to video meetings look different from all vendors (MS Teams, Webex, Zoom etc) and at times it is difficult to read out the URI


Typing in addresses containing a combination of alphanumeric (a-z, 0-9) and special characters (@,_.-/) to connect to the conference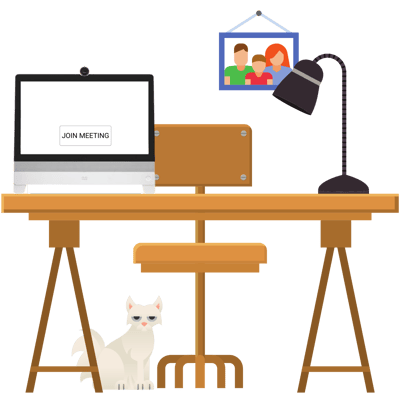 How to connect with one-click from home
Install Synergy JOIN

Invite person or Cisco Webex system

JOIN meeting with one-click
Adding to the market proven Synergy JOIN solution feature set, we are introducing our "JOIN from Home" one-button-to-push solution for Cisco Webex endpoints with no changes required at the home firewall or router.
Join multi-vendor meeting platforms with your home endpoint device without the deployment headaches found with other solutions. Get your employees up and running faster through quicker deployments and enable them to be more productive at home.
JOIN from Home will display up to three meetings - as your personal calendar can hold overlapping meetings, see below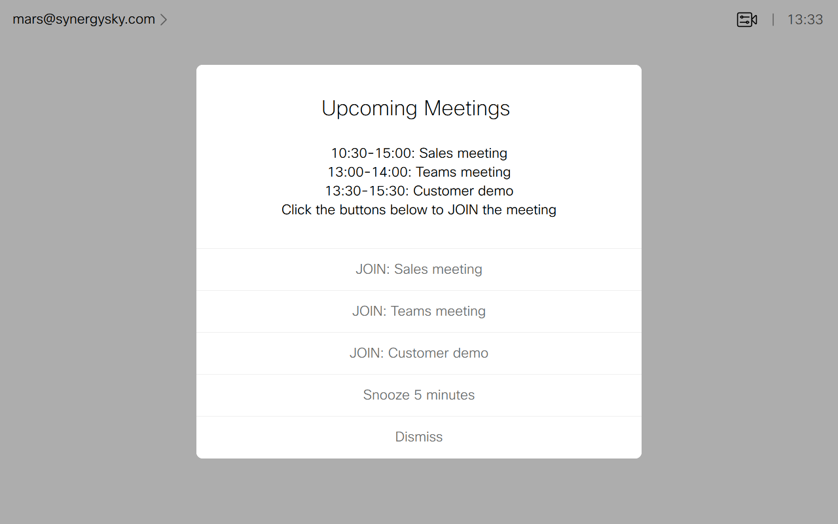 Supported technologies


| | |
| --- | --- |
| Calendars | Microsoft Exchange, O365 |
| | Google Calendar |
| Video conference endpoints | Cisco Webex Room Series |
| | Cisco Webex DX Series, DX 70, DX80 |
| | Cisco Webex Desk Pro |
| | Cisco SX Series (excl. SX10) |
| Virtual Meeting Rooms, VMR | Microsoft Teams, Skype4B, Webex, Zoom, BlueJeans, GoToMeeting, etc.. |
Get a demo over video today