In our effort to deliver simplified meeting technology to a wider market, we are excited to introduce our new Director of Sales in Canada, Gabriel Gely. With more than 40 years of experience in the industry, he is ready to elevate the video meeting experience for Canadian companies.
Gabriel Gely has grown up in the audio-visual field. Since 1976 he has built his experience in AV integration from the entire cycle of the technology: consumer electronics, commercial and corporate integration, and manufacturing and distribution. He entered the collaboration side of things about 13 years ago and was immediately entranced by it.
"In many ways, it reinvigorated my interest in the industry, which was, to be honest, beginning to wain", Gabe says.
When he transitioned his focus to the collaboration field it was refreshing and different, and a little scary. He started at the collaboration provider Audability Inc. in 2007.

"When you're in your late 40's, you expect you know everything, but here I was the new guy on the block. That was challenging and a lot of fun", he says.
Gabe is undoubtedly no longer the new guy on the block and now has an extensive resume of collaboration experience to show for. He has followed Synergy SKY since it was founded in 2008, and when he heard about the plans to expand to the Canadian market, he made himself available.
"When you're making a career change it's important to find a company who is going in the same direction as you", Gabe says and continues,
"Synergy SKY has the right technology and the right people, and they know that the Canadian market really needed some focus. I feel that I can bring that focus to it. It all just came together at the right time".
It is the simplicity of the Synergy SKY solution and the vendor-agnostic side of it that thrills Gabriel, as these features were hard to come by during his early years of using video conferencing.
"It was so frustrating; I was swearing at the ISDN lines failing to connect and the video calls constantly dropping. I don't miss that at all" Gabe laughs.
It most definitely has; video technology has been a lifesaver for those unable to meet during the trying times of covid-19 and isolation.
"I have actually managed to get my 93-year-old dad who lives in Manitoba on to video chats, which has been great to keep in touch", he says.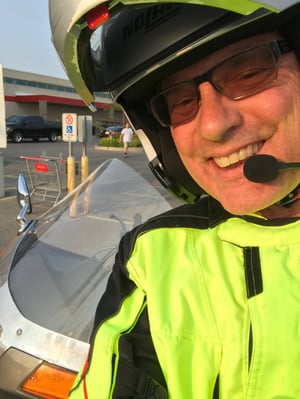 While video technology indeed is doing a good job connecting people, what Gabriel misses the most is being with his 3 grandsons, with who he usually spends most of his spare time with.
"We would play music together, go out for a ride on my motorcycle, and spend lots of time in our pool, all of which we can't do right now", Gabe says.
"This is, of course, very frustrating, but I don't want a recurrence of this so I am perfectly happy stretching it out", he says.
"We'll be together soon enough".